Audience: Franklin University students with active university accounts.
Disclaimer: The results and functionality of the following article only apply to the audience listed above.
If needing to record a presentation for your course, it may be helpful to use Microsoft Teams. The following will show you how to record a presentation for your course using Teams. If instead you would like a more comprehensive overview of Teams, please click here.
Topics
Accessing Teams
Teams is a collaboration tool from Microsoft that you can access using your student email account.
To install Teams on your computer:
1. For best results with your presentation, install Teams on your computer.
Mobile Applications exist for Teams as well, but are not the recommended choice for giving a presentations.
2. Start Teams
In Windows, click Start > Microsoft Corporation > Microsoft Teams.
On Mac, go to the Applications folder and click Microsoft Teams.
On mobile, tap the Teams
3. Sign in with your student email address and password. The student email address format is: [username]@email.franklin.edu
Scheduling and Recording a Meeting
To setup your presentation, you will need to schedule a Teams meeting that can be recorded.
1. Log into the calendar connected with your student email: https://outlook.office.com/calendar/view/workweek
2. Double-click a time slot near when you plan to start the recording, though this time slot will not limit when the recording can actually start.
3. Create a meeting where you invite at least one participant (which can be yourself). Make sure to turn on the Teams Meeting option for the meeting. When ready, press Send.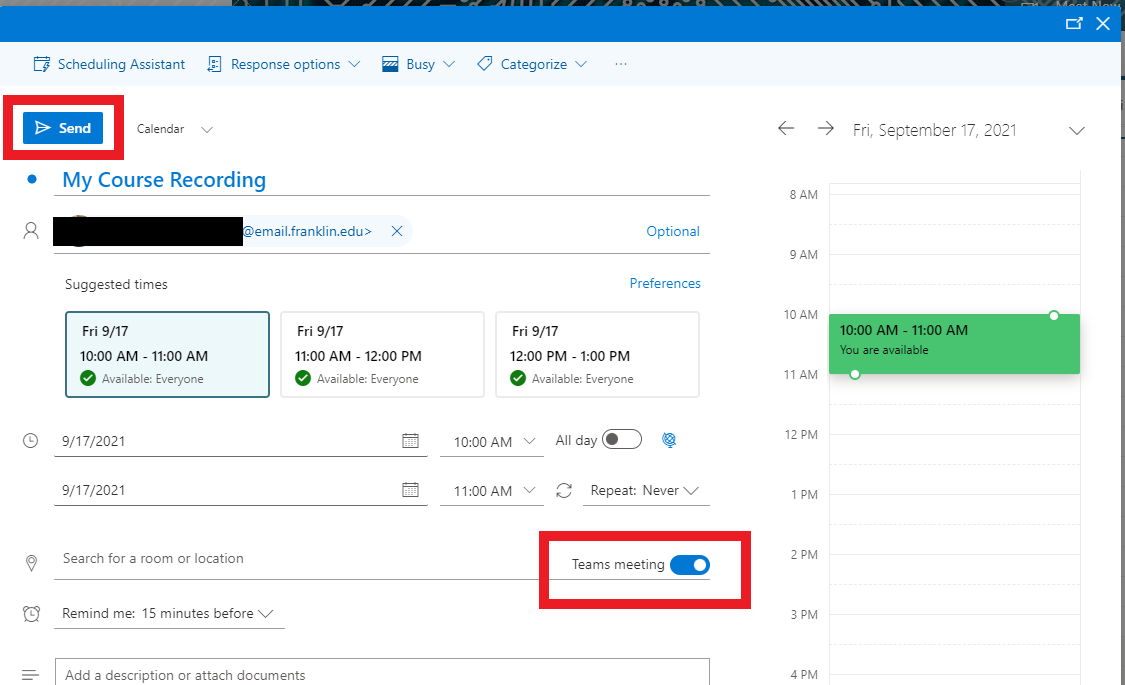 4. After scheduling, the meeting can be double-clicked from the calendar for the option to join the meeting.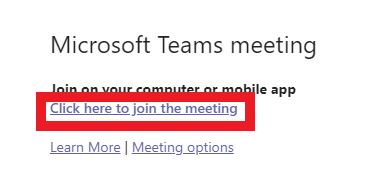 How to Present Using Teams
1. While in the meeting, you will see these options here to adjust your microphone and speaker, as well as camera settings.
2. You will also see this button here which can be used to share your screen, or even present files such as PowerPoint presentations while speaking.

3. When ready, use the settings menu (3 dots menu) to see the option to start the recording. This menu will also be used when you wish to stop the recording as well.

What to Do with The Recording
1. When you are finished, you may leave the meeting and the recording will be processed by Teams. Processing time is often fairly quick, at which point you will see that your recording is ready in the Teams chat menu.

2. When opening the chat for the meeting, you will see the recording file linked.

3. Click to open the linked recording file and use the option to download that recording file onto your computer.

4. The recording file can then be uploaded into your course. If the file is too large to upload, you can add it your OneDrive account (part of your Office365 email license) and share it from there. For more information about using OneDrive and sharing OneDrive files, please click here.
Wish to log a request with the Help Desk? Use your Franklin University username and password to login: Log A Request