Audience: Franklin University students accessing courses in Canvas.
Disclaimer: The results and functionality of the following article only apply to the audience listed above.
Topics
Accessing Canvas for the First Time
Course access is available 10 days prior to the course start through the website my.franklin.edu
For questions about how to access Canvas for the first time, click here.
Navigating Canvas
Canvas navigation takes place in the outer left hand menu (outlined in orange).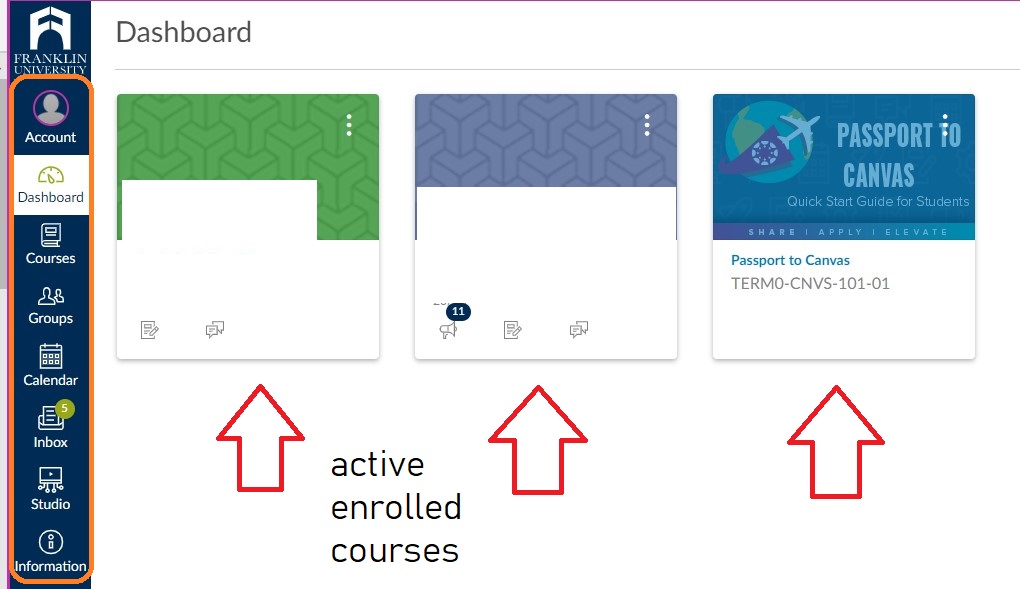 Course navigation for links that pertain to your course, take place in the inner left-hand menu. This menu can be seen after clicking on, and entering a course.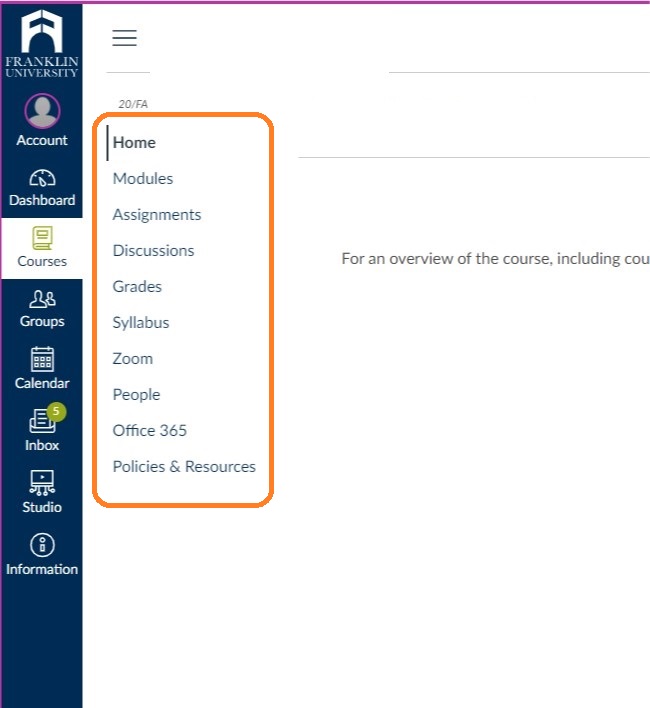 A course will have different modules that can be used to find upcoming assignments and other course relevant work and information pertaining to that course.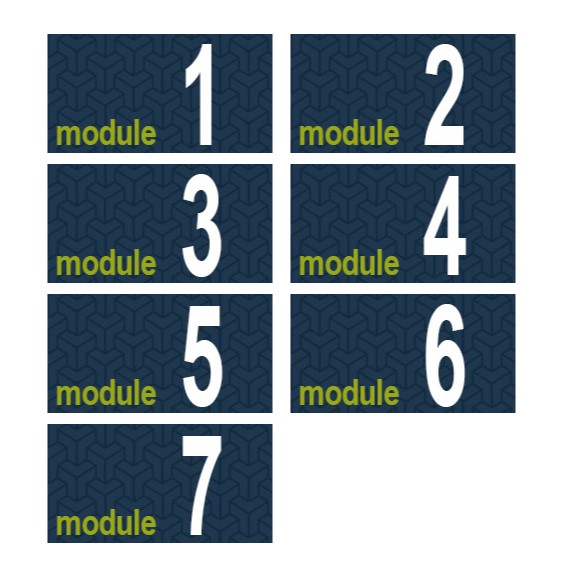 Assignment Submissions
For assignments you will need to turn in through Canvas, you will see a "Submit Assignment" button on your assignment page.

For more information, click here.
Turnitin Submission
Canvas has built in integration with the Turnitin plagiarism check tool. Many assignments have Turnitin integration enabled. When enabled, submitting the assignment through Canvas also applies the Turnitin plagiarism check to that assignment.
However, if Turnitin integration hasn't been enabled for an assignment, please follow up with your professor.
Discussion Topics
Discussion topics are often listed in course modules. Click a discussion to open it. Alternatively, from the Course Navigation, click the Discussions link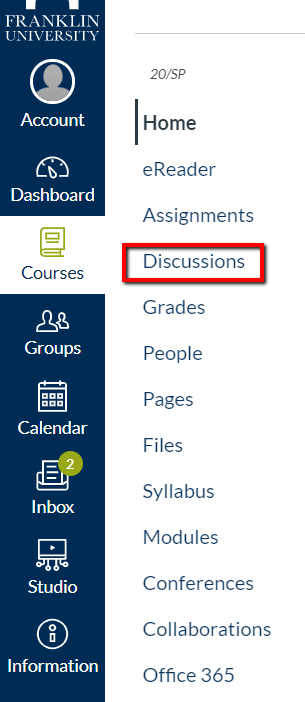 At the bottom of a discussion, you will be able to reply.

For more information, please click here.
Locating Grades
Once you are in a course, you can view grades in the course navigation (inner left-hand) menu.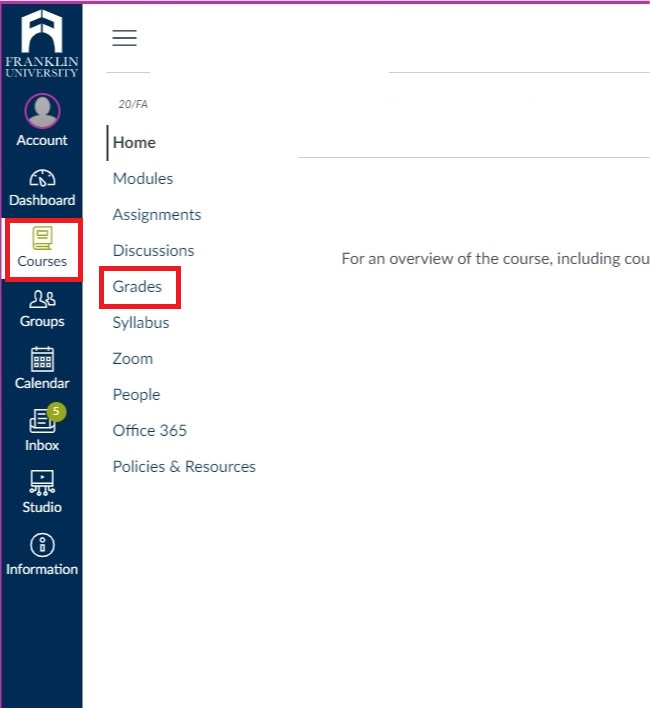 Locating Past Courses
Once courses are completed, they can still be accessed. Open the Course Menu and click on All Courses.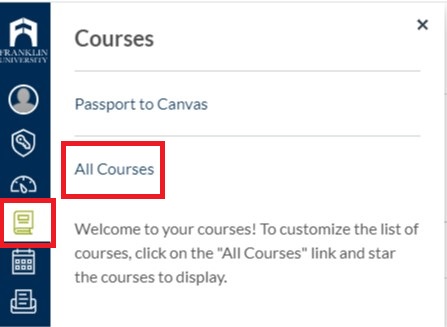 Present, past, and future courses (enrolled in the course that starts in more than 10 days) show up here. Click on the past course you wish to view, which will enter the course and allow you to see many course aspects including the course grade book.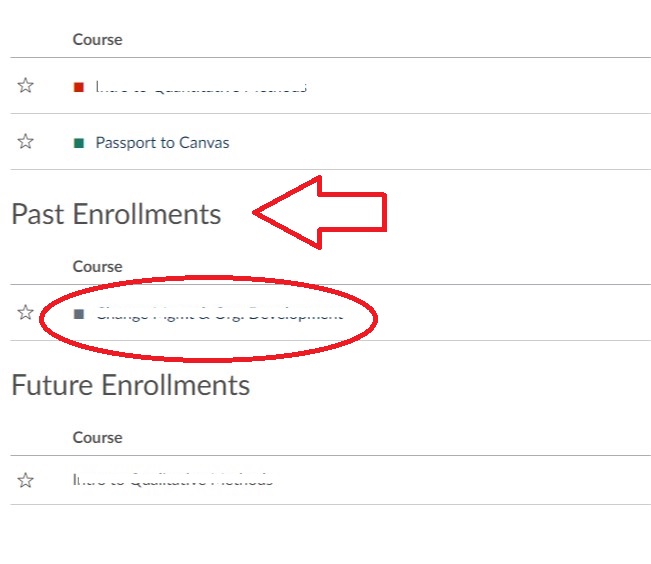 Locating E-Textbooks
For most courses, if an integrated e-textbook is part of the course access, the book(s) will be available through the left hand course menu. Click on the book object in your course.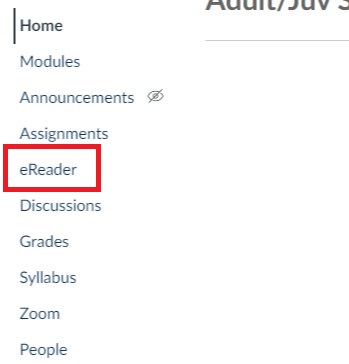 Then, you will see an orange Read Now button to open the book in a new tab.
However, if your course uses Pearson e-textbooks with Courseware, the process will differ. For more information, please click here.
Canvas Messaging and Email
The 2 messaging systems are:
Canvas messaging system
Microsoft Office365 email
These 2 messaging systems do not talk to one another, meaning a message sent in one system will not show up in the other system.
For more information, please click here.
Finding Class Meet Sessions
You can join a class Meet session using the Zoom link in the left hand course navigation. For more information, please click here.
For information about joining a Meet session using the Zoom app for your phone or tablet, please click here.
Wish to log a request with the Help Desk? Use your Franklin University username and password to login: Log A Request