Audience: Franklin University staff, faculty, adjuncts, and doctoral students.
Disclaimer: The results and functionality of the following article only apply to the audience listed above.
Topics
Zoom Recording Retention and Deletion Cycle
Audiences
1. Staff, Faculty, and Adjunct Faculty: The University will delete all cloud Zoom recordings from our storage 180 days after the recording date. This deletion will happen daily.
This deletion cycle will be enabled for staff, faculty, and adjunct faculty starting June 1st, 2022.
2. Doctoral Students: Doctoral Student Recordings are deleted after 60 days. For more information, please see the Zoom for Doctoral Students article.
This deletion cycle is in place and was established prior to the cycle established for staff, faculty, and adjunct faculty.
Downloading Recording Files Prior to Deletion
Prior to the cloud recording deletion, meeting hosts are able to download local copies of their recorded files.
1. Sign in to the website franklin.zoom.us with your university credentials.
2. Go to the Recording section of the site.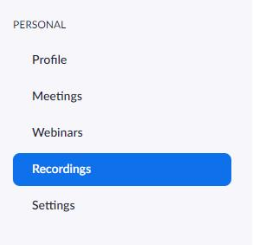 3. Find the recording you wish to download. Use the More menu to find the option to download the recording.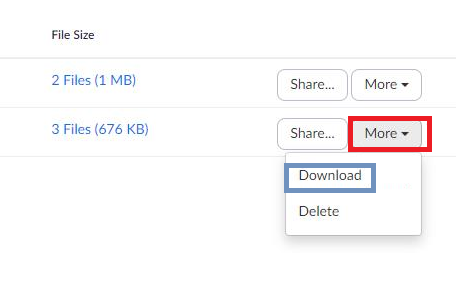 Acceptable Use Policy
Please keep in mind that use of Franklin University Zoom accounts and Zoom recordings are only intended for use directly related to the educational and professional mission of Franklin University. For more information on the University's Acceptable Use Policy, please click here.
Related Links
1. If you are a staff member, faculty or adjunct faculty member, or doctoral student without a Licensed Zoom account, you are missing out of features such as conducting a meeting with up to 100 participants, cloud recording and transcription options, and conducting meetings longer than 40 minutes. To remedy this, you can sign into the Zoom application using the following instructions, please click here.
2. If you would like to would like to use Zoom Transcription services to download a copy of a meeting or session transcript, please see the following guide, click here.
3. If you are a doctoral student looking for further information about Franklin University's Zoom for Doctoral Students guide, please click here.
Wish to log a request with the Help Desk? Use your Franklin University username and password to login: Log A Request