Audience: Franklin University members using Zoom for virtual meetings.
Disclaimer: The results and functionality of the following article only apply to the audience listed above.
When joining a Zoom session on your computer or mobile device, you will be able to choose the audio sources you wish to use for hearing audio from the meeting, and microphone to project sound into the meeting.
A simple way to verify or alter your audio selection, is within the meeting. The screenshots below are taking from a Zoom meeting on a computer. Using the mobile application may result in a slightly different experience.
In a meeting click on the arrow next to the microphone icon to see other microphone and speaker options. Here you can also switch the audio of the meeting to go through your phone rather than you computer if needed.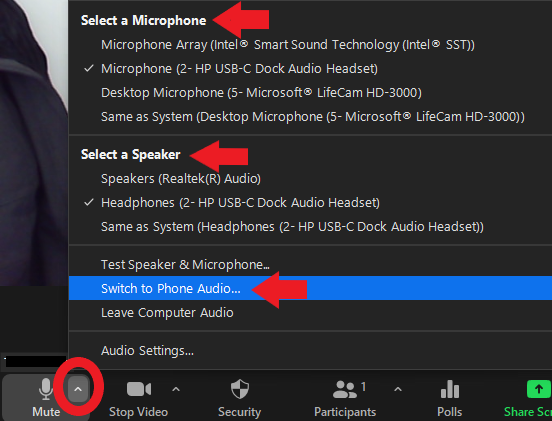 If the microphone and/or speaker you are looking for is not listed in this menu, you may need to search your computer's Sound Settings menu to verify if the microphone is correctly installed on your computer. To do so, go to your start menu (Windows computer) and search for Sound Settings.
If you continue to have issues with your computer's ability to connect audio for a Zoom call, please contact the Help Desk.
Wish to log a request with the Help Desk? Use your Franklin University username and password to login: Log A Request