Audience: Franklin University doctoral students.
Disclaimer: The results and functionality of the following article only apply to the audience listed above.
Topics
Licensed Account Access and Features
As a doctoral student of Franklin University, you have access to a Licensed Zoom account. Licensed Zoom accounts are now automatically upgraded upon the next login to the Zoom application. You will need to sign into the Zoom application on your computer using steps 1 - 4 of the linked article (click here). If you are already logged into Zoom on your computer, please sign out and then back in for your licensing to upgrade.
Licensed Zoom accounts allow a meeting Host to conduct a Zoom meeting with up to 100 participants. Meetings are also not limited to 40 minutes (as they are for Basic accounts). Finally, other features are available, such as accessing a written transcript for recorded meetings.
To access the Franklin University instance of Zoom, click here.
For basic instructions to schedule a meeting after your account has been upgraded, please see the linked article (click here).
Recordings and Downloads
Licensed Zoom accounts have the ability to record Zoom meetings. Doctoral student recordings to Franklin University's cloud storage space will automatically delete after 60 days. Prior to that deletion, please download a copy of the cloud recording for your personal storage using the steps below.
1. Sign into the website franklin.zoom.us with your university credentials.
2. Go to the Recording section of the site.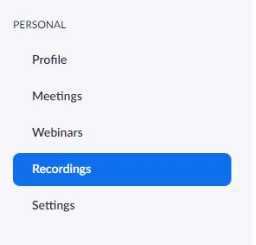 3. Find the recording you wish to download. Use the More menu to find the option to download the recording.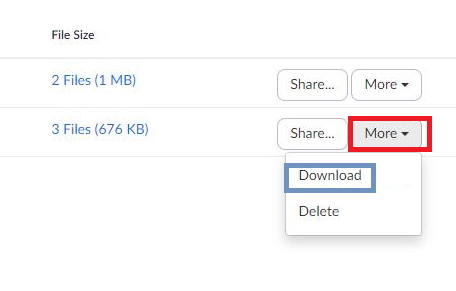 Transcripts for Zoom Meetings
One benefits of the Licensed Zoom account for doctoral students is the use the transcription service built into Zoom.
For more information about Zoom Transcription, please click here.
How Long Will Access Last
Doctoral students will retain access to a Licensed Zoom account as long as they are actively taking doctoral courses and/or working towards the completion of their dissertation. However, Franklin University retains the right to remove access at any time and account retention practices may change at any time.
Acceptable Use
Please keep in mind that doctoral student use of Franklin University Zoom accounts and Zoom recordings are only intended for use directly related to completing a degree at Franklin University. For more information on the University's Acceptable Use Policy, please click here.
Wish to log a request with the Help Desk? Use your Franklin University username and password to login: Log A Request