Audience: Franklin University Office 365 Email users.
Disclaimer: The results and functionality of the following article only apply to the audience listed above.
What is the Focused Inbox?
The Focused Inbox feature (formerly called Clutter) from Microsoft moves email automatically into your Focused Inbox folder.
According to Microsoft, "Focused Inbox helps you move low priority messages out of your Inbox so that you can easily scan for important messages. Focused Inbox analyzes your emails, and based on your past behavior, determines the messages that you're most likely to ignore. It then moves those messages to a folder called Focused Inbox so that you can review them later."
How to Locate the Focused Inbox and the Other Inbox
If you have focused inbox enabled for your email, you will see the following atop your list of email messages. By clicking on the words Focused and Other in your inbox, you can switch between each group of messages.
Outlook View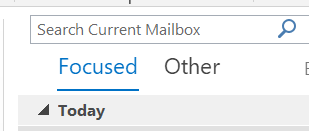 Office 365 Online Email View

Enable and Disable Focused Inbox
Link: Turn On/Off Focused Inbox for Office 365 Online Email
Link: Turn On/Off Focused Inbox for Outlook Email Software
Wish to log a request with the Help Desk? Use your Franklin University username and password to login: Log A Request