Audience: Franklin University Faculty and Staff that need to access a mailbox or calendar that they do not own.
Disclaimer: The results and functionality of the following article only apply to the audience listed above.
Topics
1. I Need Access to a Shared Email Account and/or Shared Calendar
2. I Need Access to Another Person's Email Mailbox and/or Calendar
3. Instructions for adding another mailbox
4. Instructions for adding another calendar
5. How to 'Send As' from a shared mailbox
I Need Access to a Shared Email Account and/or Shared Calendar
Many departments at the University make use of one or more shared mailboxes, such as "library@franklin.edu" or "registrar@franklin.edu." Many of these mailboxes have been configured so that all of the appropriate people can add this folder to their Outlook client. To request access to a shared mailbox or shared calendar, please fill out the form below. Please note that you no not need to request access to the public calendars or conference rooms such as: Van 1 or Alumni Hall 100.
https://servicedesk.franklin.edu/WorkOrder.do?woMode=newWO&reqTemplate=14704&requestServiceId=906
I Need Access to Another Person's Email Mailbox and/or Calendar
Access to view and/or control someone else's mailbox and calendar is granted by them. If someone wishes to grant you such access, please have that user see the following article: Delegate Access
Once access has been granted, instructions for adding the mailbox are listed below.
Add a Shared Mailbox to your Outlook Desktop Client
These steps can also be used to add a shared mailbox (such as facserv@franklin.edu) or when someone has granted you delegate access to their mailbox.


1. Within your Outlook account navigate to File > Info > Account Settings > Account Settings.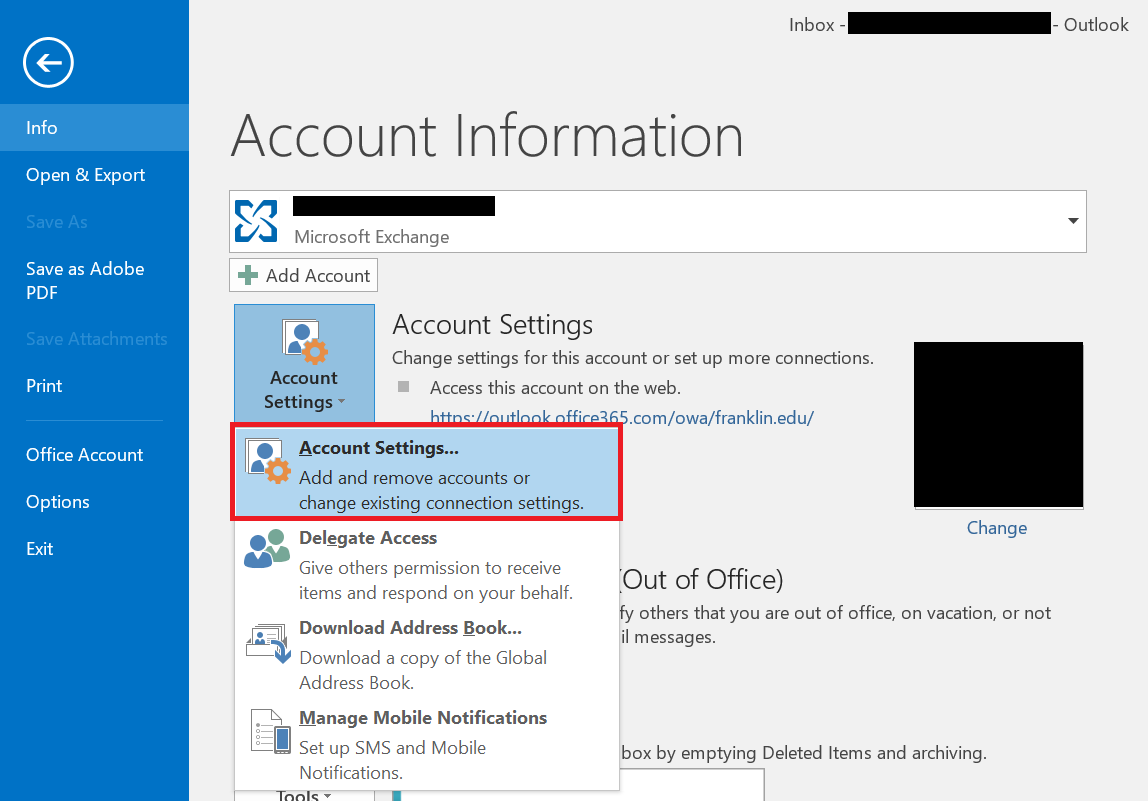 2. Highlight your Microsoft Exchange account and click the Change button.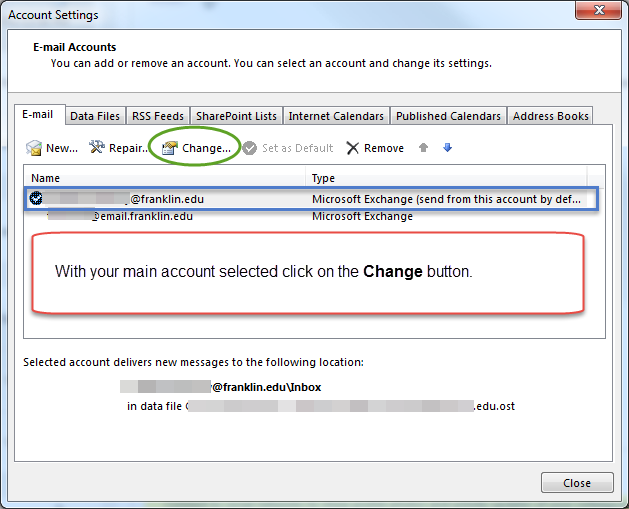 3. Click the More Settings option.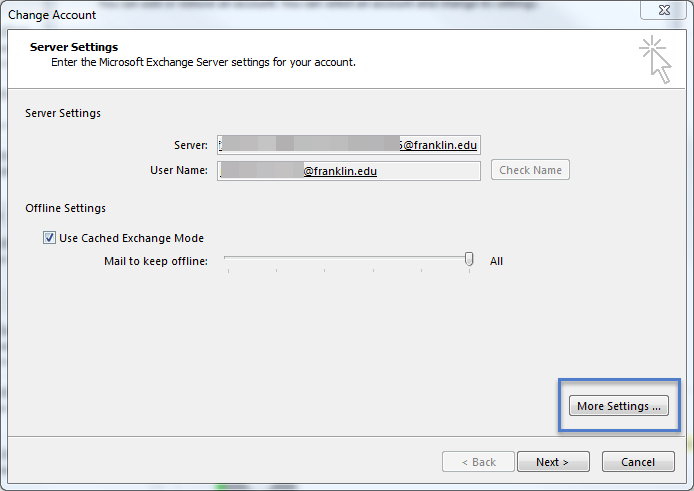 4. Within the MS Exchange Window click the Advanced Tab.
5. Under the Mailboxes section click the Add button to add the additional mailbox you have access to.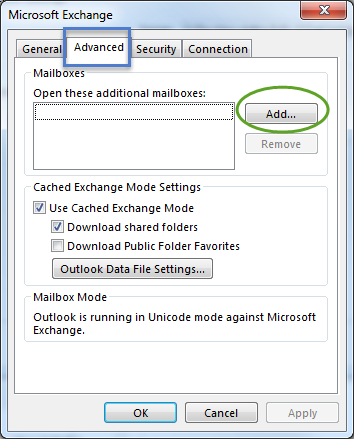 6. In the Add Mailbox window type the name of the mailbox you wish to add. Enter the email address of the shared mailbox (e.g. Shared_mailbox@franklin.edu, or john.doe@franklin.edu).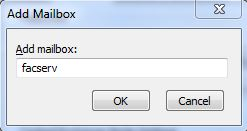 7. Click OK.
8. Make sure your additional mailbox is listed in the advanced tab.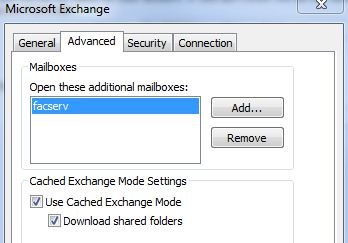 9. Click OK.
Please note: At this point, you may be prompted to restart Outlook.

If you are, click OK to the message and proceed to Step 10.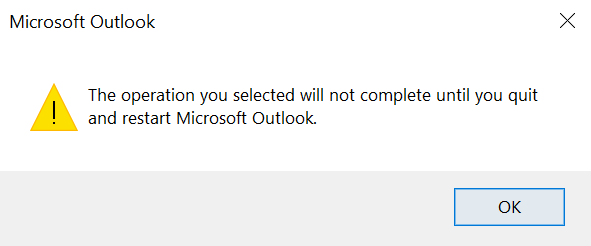 10. Navigate your way out of previous windows by:
clicking Next on the Change Account window
and then Finish.
Click Close on the Account Settings
11. Close and re-start Outlook.
12. When you have re-started outlook, Click on the Mail button in the Navigation pane. In the folder list, you will see the additional account you just added underneath your own.

To expand the new account and display the additional folders that you were given access rights to, click the small triangle next to the mailbox name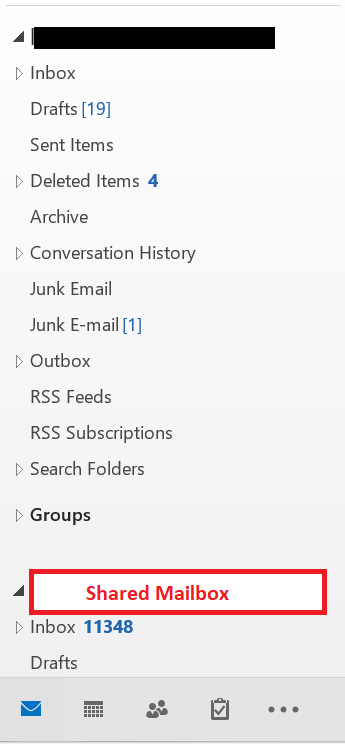 If you receive an error that you "cannot expand the folder" when you click on the small triangle, then you may not have the appropriate permissions to access that mailbox. Please check you permissions and steps above again and contact the Help Desk if you have any problems.
Add a Shared Calendar to your Outlook Desktop Client
These steps can also be used to add shared calendars and public equipment and meeting rooms (such as Accord 1 and Alumni Hall 107 ) or when someone has granted you access to their email calendar.
1. Within the Outlook Desktop application navigate to the calendar
2. Select option to "Open Calendar" from the top ribbon.
a. You can select "From Address Book" to open people's calendars and public calendar's (e.g. Accord, John Doe or Alumni Hall)

3. Verify the address book is set to "Global Address List".
4. Enter the name of the calendar you wish to sync. (e.g. Accord, Van 2, John Doe, or Alumni Hall)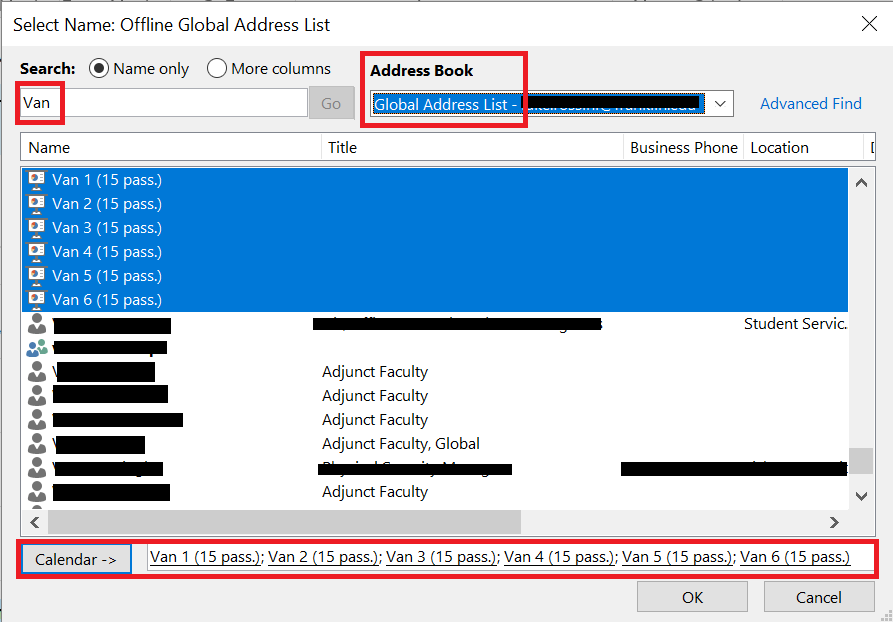 5. After pressing OK you will see all selected calendars grouped or added to your shared group.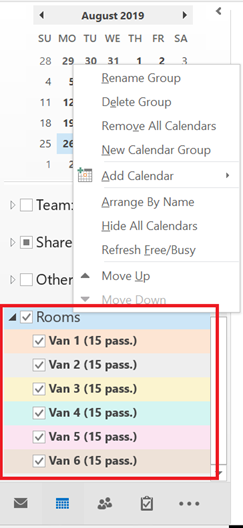 6. You can move the calendars or customize the name of the group
How to Send an Email From a Shared Mailbox
These steps only work, once permission to the shared mailbox have been granted. Not all shared mailbox permissions are granted equally. Permissions vary from mailbox to mailbox.
1. Open a new email.
2. If you do not see a drop down menu for "From" atop the email, choose the following icon to enable From view. This option appears in the Options tab of a new email.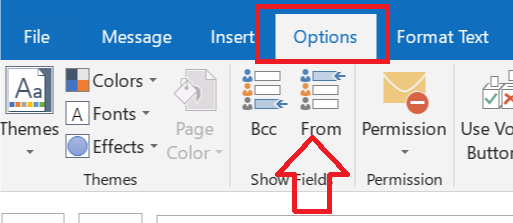 3. Using the from drop down, you may need to add the new email address to send from. Choose the "Other Email Address" option in the "From" drop down.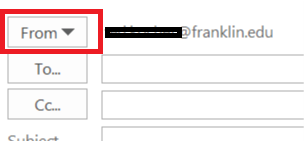 4. Type in the email address you have been given permission to send from. Once selected, it will need typed in manually in future emails.

Wish to log a request with the Help Desk? Use your Franklin University username and password to login: Log A Request