Audience: Franklin University members hosting a Zoom meeting for a large group of attendees. This article is not intended for classroom meetings conducted as part of an academic course at the University.
Disclaimer: The results and functionality of the following article only apply to the audience listed above.
To view the accompanying video to this document please click here. Only University staff and faculty will be able to log in and view this video link.
Scheduling and Hosting Large-Scale Zoom Meetings
A guide to optimize meeting configurations for high visibility Zoom meetings
Personal Settings
There are three areas of settings for Zoom meetings. Your personal account settings affect all meetings that you create. Each meeting also has its own set of options, and there are additional settings within the running meeting itself.
First, we are going to take a look at some personal account settings that are best optimized for hosting large-scale meetings and presentations.
1. Log in at https://franklin.zoom.us with your University username and password
2. Click on "Settings" in the left-hand sidebar. The "Meeting" section should then be highlighted.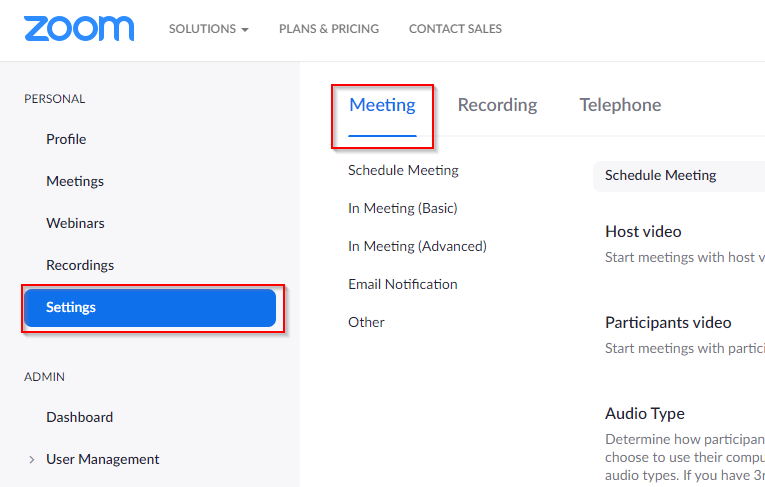 3. It may be a good idea to evaluate the following settings in this section:
Participants video – If this setting is turned on, then participants will automatically join with their video active. Consider disabling this. Participants can always turn their video on when in a meeting, but this may prevent participants from joining without realizing their video is on.
Join before host – If this setting is enabled, any participant with the meeting link can enter the meeting at any time, whether the host is there or not. Consider disabling this setting if you wish to make sure you are in the meeting room before general participants.
Mute participants upon entry – If this setting is enabled, all participants will join with their microphone muted. It is recommended that this be enabled.
Play sound when participants join or leave – If this setting is enabled, a chime will play when someone enters or exits the meeting. Additionally, if a participant joins by phone, it will announce their name during the meeting. This can be disabled altogether or there is an alternate setting for "heard by host only." Consider disabling this completely especially if you will be hosting meetings with a large number of participants.
Co-host – If this setting is enabled, then you as the host can designate other participants as co-hosts while the meeting is in progress. This is recommended because it will allow you to promote another user to be able to monitor microphone/camera usage, or create breakout rooms, or start and stop recording.
Screen Sharing – Who can share? – Choose "Host only" or "all participants." It is recommended that this be set to "Host only" especially for large meetings so that no one else can present their screen.
Waiting room – When this is enabled, all participants enter a waiting room until the host admits them into the meeting. Highly recommended for large meetings especially if you want to ensure that you have time to prepare with your presenters prior to the start of the meeting.
Scheduling a Zoom Meeting
The following instructions do not apply when you are teaching a Canvas course. Please click on the Canvas link if you are looking to setup a meeting for your course.
If not scheduling a meeting for your course, it is recommended that Zoom meetings are created from the Zoom desktop application. If this is not already installed on your University computer, it is available for download here: https://zoom.us/support/download
If you have not signed in to the desktop application before, you may see the following screens when launching the application. Choose "Sign in with SSO" and then enter "franklin" as the domain. You will then be taken to the normal University login page where you can enter your University email and password.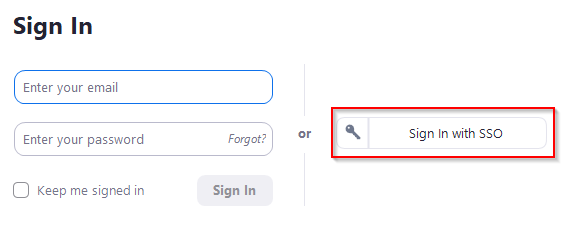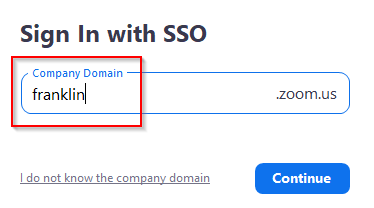 When creating a Zoom meeting, certain settings are available that will apply only to the specific meeting that you are creating. View the screenshot below and take note of the following:
Recurring meeting – check this box if you wish to reuse the link as part of a recurring meeting series.
Advanced Options – must be clicked to show the advanced options. Several of these are the same as settings listed above in your personal account, but they will override your personal settings if you choose a different option for this particular meeting.
Alternative Hosts – this lets you specify additional users who can act as the host of the meeting, even if you are unable to attend. You must input the user's full email address in this field, and they must have a Zoom pro license. You can specify multiple alternate hosts by typing a semicolon after each entry.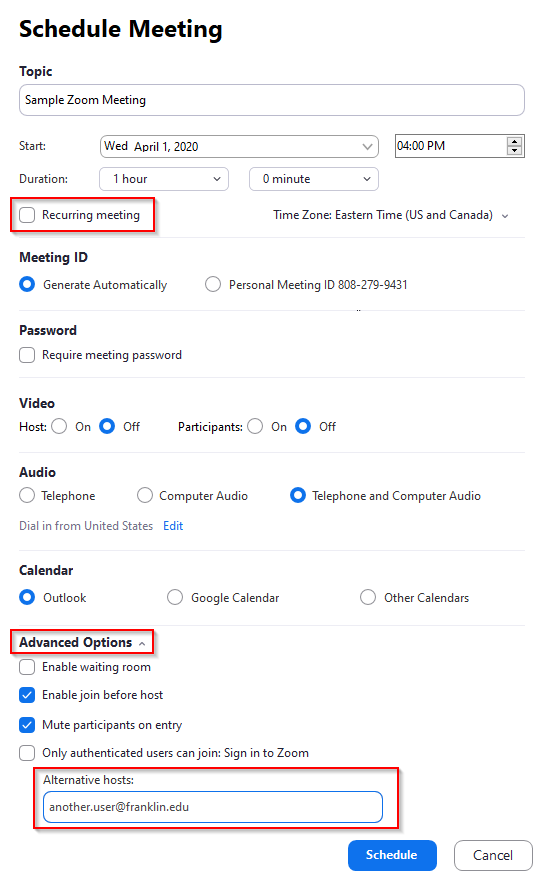 During the Meeting
While the meeting is in progress, there are several opportunities and best practices to ensure a smooth meeting experience, particularly with a large number of participants.
Click on "Manage Participants" in the meeting controls to display the participants list

Hover over a participant to show the following options. Note that you can also manually mute a participant.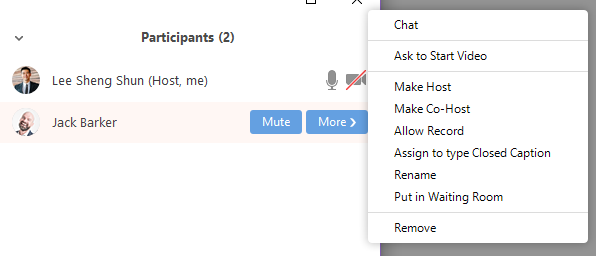 At the bottom of the participants list, you will have an option for "More," which contains the following items: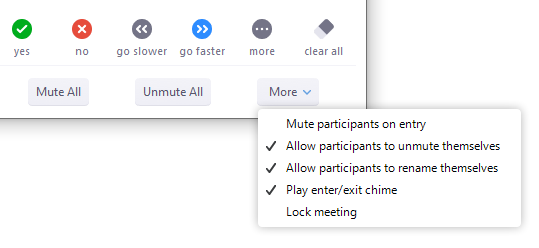 For a large group, it is recommended that you uncheck the option for "Allow participants to unmute themselves." This can cut down on unwanted noise during the meeting, ensuring that only the desired participants can speak. Then, for those participants that you wish to have full microphone control and screen sharing ability, consider promoting them to Co-Host using the "More" menu while moving your mouse over a participant's name.
Special Note: Large Meeting License
Users with Zoom Pro licenses can host meetings with up to 300 participants. For rare situations where this is not enough, the "large meeting" license add-on is available. This allows for up to 1,000 participants. A Zoom administrator (Help Desk) can reassign the large meeting license on a case-by-case basis.
Wish to log a request with the Help Desk? Use your Franklin University username and password to login: Log A Request