Audience: Franklin University Faculty and doctoral students needing a statistical analysis application.
Disclaimer: The results and functionality of the following article only apply to the audience listed above.
SAS
Certain courses necessitate a Statistical Analysis application. SAS allows students to use their SAS On-Demand application for free as long as SAS is used for educational purposes.
Sign up for a free educational account:
1. Go to: https://welcome.oda.sas.com/login click on Don't have a SAS Profile?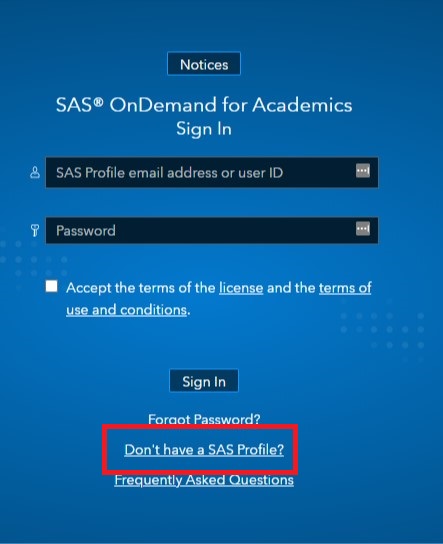 2. When the pop up shows up, click on Create Profile.

While this account is in no way tied to your official university account or password, free access to this application requires sign up with an email address that ends in .edu.
You will need to use your university email address when signing up for access.
You may need to wait (potentially up to 4 hours) for your confirmation email from SAS with your SAS username.
3. During the sign up process, you will set a new password that will later be used to access the SAS On-Demand application. Please write this password down as it is not connected to your University password and cannot be reset by the University Help Desk.
Accessing the SAS On-Demand application:
This application is online, meaning a consistent and dependable internet connection will be needed to use SAS On-Demand for each session.
After signing up, and receiving your username from SAS, you can log into the SAS On-Demand application here: https://welcome.oda.sas.com/
Wish to log a request with the Help Desk? Use your Franklin University username and password to login: Log A Request