Audience: Franklin University's FranklinWORKS Marketplace Members.
Disclaimer: The results and functionality of the following article only apply to the audience listed above.
If you have arrived at the FranklinWORKS Marketplace, and select a uCertify program for enrollment, the following steps will guide you through the account setup process. Please read through the entire document below.
Topics
Create Your FranklinWORKS Marketplace Account
Navigate to the FranklinWORKS Marketplace and click Create Account.You will need to provide your name, email and phone number to set up a FranklinWORKS Marketplace account.


1. Learners receive an email from Franklin about the created account and password reset instructions.
2. Learners can log into https://www.franklin.edu/franklinworks-marketplace after a successful password reset.
Payment Required for Enrollment
The program you selected requires payment in full. We will guide you through our fast, simple, and secure payment portal. Once payment is verified, you will be returned to the Marketplace dashboard.
Finalize Account Activation with uCertify
The program that you have selected will now be visible in your enrolled offerings tab. Click Access Courses and you will be redirected to configure your account and activate your program.
uCertify Sign up Process for Learners
This process occurs after a Marketplace account has been created and payment confirmation has been received. Then, the learner will be directed to their Dashboard to select Enrolled Offerings.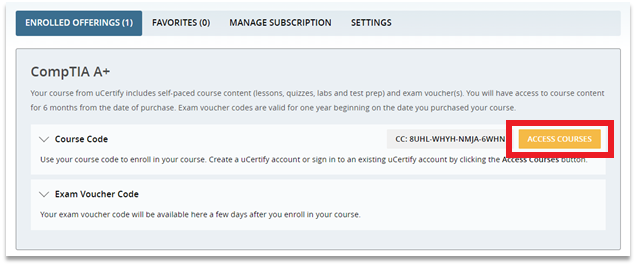 1. Learners click the Access Courses button or go to https://franklin.ucertify.com/start to sign in or sign up. For learners with an existing uCertify account, please skip step 2.
2. First-time learners must click Don't have an account? To sign up, enter your email address and agree to the uCertify Terms and Conditions to sign up for a uCertify account. Once you have entered your email address in, you will be directed into uCertify Welcome page.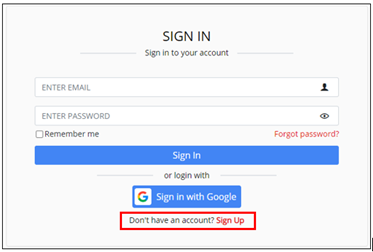 3. When your uCertify account is created, it will need to be activated through an email confirmation step before it can be used. Click the Activate Account button in the upper-right corner and enter the activation code sent to your email to set up login credentials.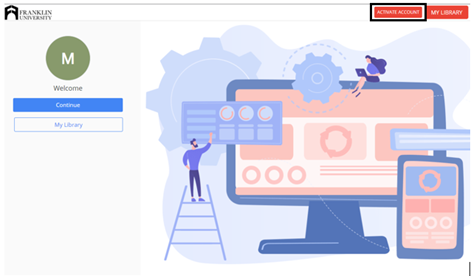 You will receive a confirmation email with a one-time security code for activation. This code will need copied and pasted as prompted.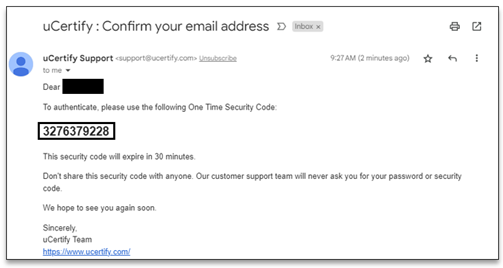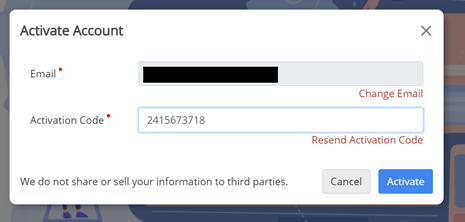 Then, you can set your account information including your password. Click submit to enroll your account with uCertify.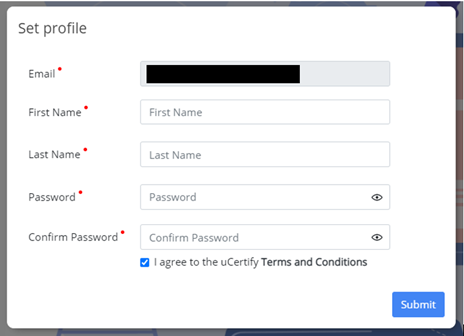 4. Click on My Library button on the left or in the upper-right corner of the landing page to view the current enrollment.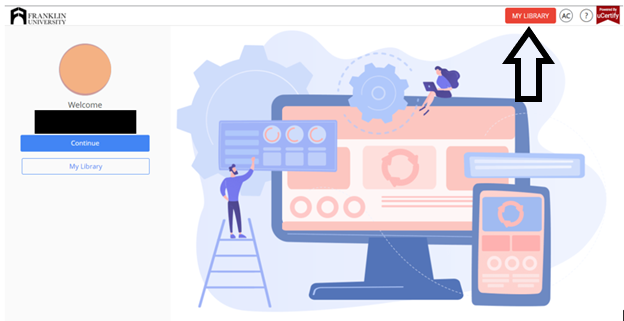 5. From My Library, click Enroll tab or for easy short cut add titles using an Access Code link to enroll in your course.

6. Select I am a self-paced student then click Next.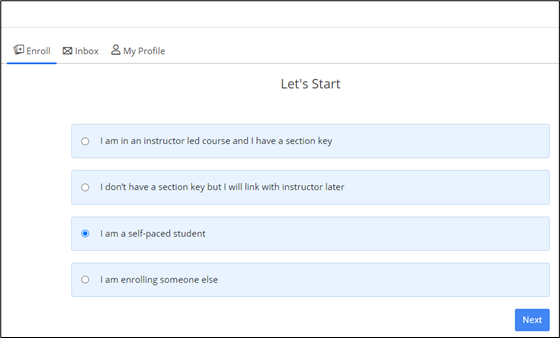 7. Enter your information and the access code provided to you from the marketplace and click Validate. The access code is located in your dashboard within your FranklinWorks account shown below.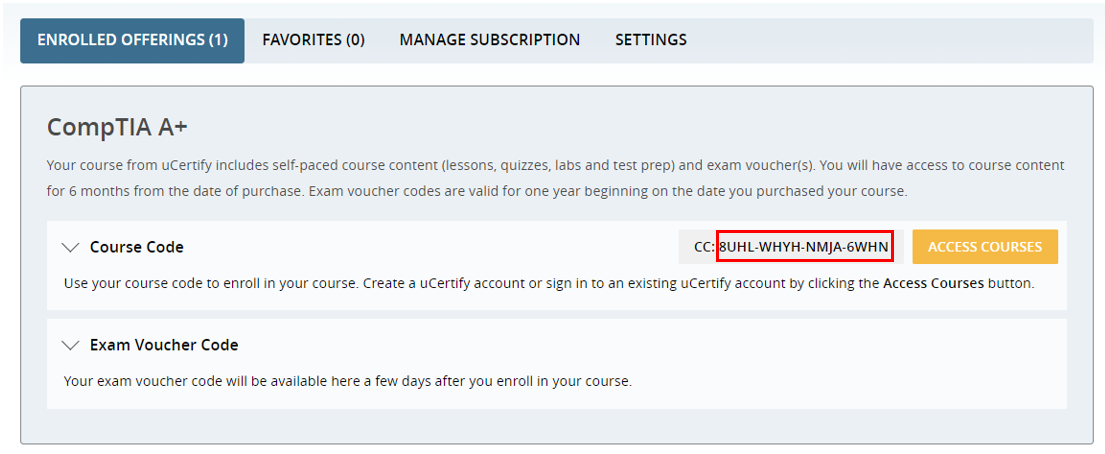 8. You have enrolled in the course successfully. Now, you can click the Open button to start learning. Below you will find two examples of how this will appear under the tab Enroll.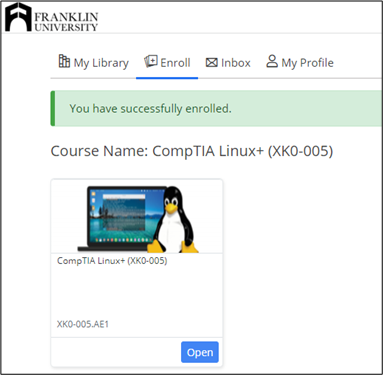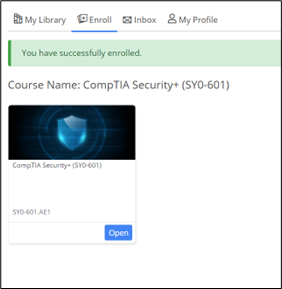 9. Click the Open button to access your course. Explore some of the settings to help you manage your learning pace. This is where you can set your target date for the course.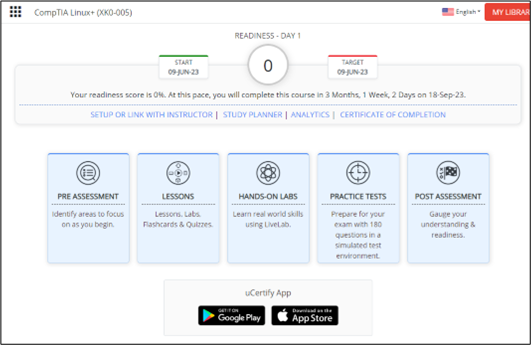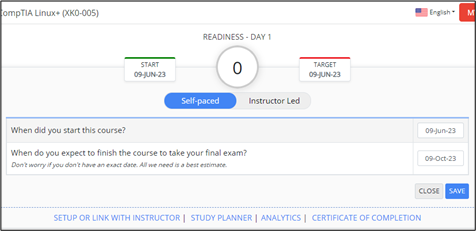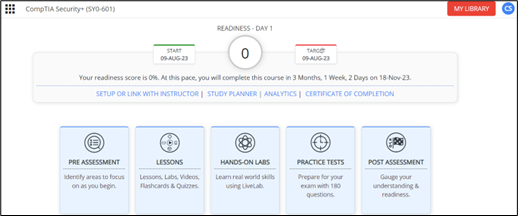 Important Note:
Please ignore the Buy Now option on the uCertify site as your exam voucher is included in your marketplace purchase. Follow the instructions on the marketplace to register for the certification exam when you are ready.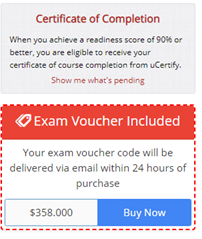 Exam Information
When the course is completed and the learner is ready for the Exam, the voucher information will be located in the FranklinWORKS Marketplace DASHBOARD.
All exams are taken through CompTIA, the exam can be taken online or in person. All information regarding exam information is linked below to be directed to CompTIA website for updated information.
NOTE: The Exam code has an expiration date, after this date the code will no longer be valid.
CompTIA website: https://www.comptia.org/home
CompTIA Exam policies and procedures: https://www.comptia.org/testing/testing-policies-procedures
Take an In-Person Exam: https://www.comptia.org/testing/testing-options/take-in-person-exam
CompTIA In-person Testing provides you with testing options at any of the thousands of Pearson VUE test centers located around the world.
Choose in-person testing if you:
• Don't have access to a private, distraction-free location
• Don't have reliable Internet access
• Have limited understanding of written and spoken English or other language barriers
Take an Exam Online: https://www.comptia.org/testing/testing-options/take-online-exam
Online testing offers you the ease and convenience to test for your certification from any quiet, distraction-free and secure location at any time.
Choose online testing if you want:
• A secure and easy way to test from home, a closed-door office or any place that has a private area available to you
• The flexibility to schedule your exam at any hour convenient to you
• Technical support if something goes wrong during your exam session
For online testing, you'll need a:
• Quiet, enclosed, private location
• Reliable device that meets system requirements and has a webcam
• Strong, consistent internet connection with a minimum speed of 1 Mbps down/up
Retake Policy: https://www.comptia.org/testing/testing-policies-procedures/test-policies/comptia-certification-retake-policy
In the event that you fail your first (1st) attempt to pass any CompTIA certification examination, CompTIA does not require any waiting period between the first (1st) and second (2nd) attempt to pass such examination. However, before your third (3rd) attempt or any subsequent attempt to pass such examination, you shall be required to wait for a period of at least fourteen (14) calendar days from the date of your last attempt to pass such examination.