Audience: Those with active Zoom accounts through Franklin University.
Disclaimer: The results and functionality of the following article only apply to audience listed above.
Zoom has turned on live captioning for our Franklin University instance of Zoom. Therefore, if you have a Zoom account through Franklin University, you can turn on live captioning in a meeting where you are the host. This applies to basic and Licensed (sometimes called "Pro") Zoom accounts.
If you don't already have a Zoom account with Franklin University and you are an active faculty, staff, or student, you can get an account in our Zoom instance by logging in with your University credentials to: franklin.zoom.us
For further instructions logging into Franklin University's instance of zoom, please click here.
Instructions for Live Captioning
Only meeting Hosts can enable this feature for the room.
1. As a host, use the Live Transcript button, to Enable Auto-Transcription.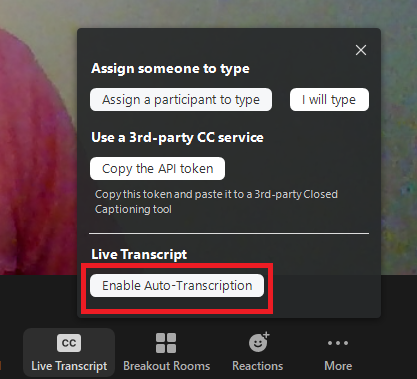 If you do not see a Live Transcript button, check the More menu to access the Live Transcript option.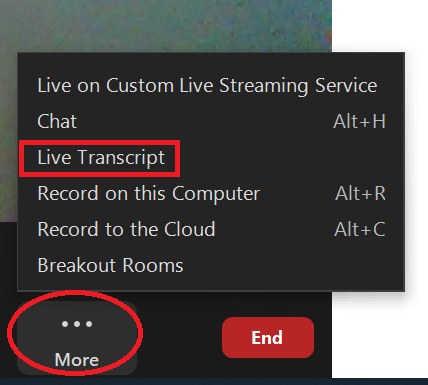 2. Once turned on, it will start showing subtitle format live transcription for all participants. Each individual participant (including the host) in the meeting can hide the transcription view for themselves without affecting other participants.

3. Also, after live transcription is enabled by the meeting host, each individual participant (including the host) can also enable the full transcript view for themselves, which will move the meeting transcription to a side window (similar to a chat or participant list side-view).

Only the host of the meeting can turn the live captioning back off/disable it for the whole meeting if they choose.
Wish to log a request with the Help Desk? Use your Franklin University username and password to login: Log A Request