Audience: Franklin University Faculty and Staff with an assigned University phone extension
Disclaimer: The results and functionality of the following article only apply to the audience listed above.
Using Teams Phone, it is possible to block unwanted spam calls. While there is not a proactive spam filter for phone numbers, it is possible to block calls from a specific number after it is received. This way you will not receive a call from that same number again. After spending some time blocking individual numbers, you should see a drastic reduction in the number of marketing/spam calls you receive.
To block a call, first navigate to the Calls screen in Teams. You will see your call history. Calls that are not associated with a contact and do not have a matching Caller ID record will show as "Unknown." To view the specific number that called, click on the entry in your call history, and the number will appear in the sidebar.

To block all future calls from that number, click on the extended options menu next to the entry in the call history, and choose "Block."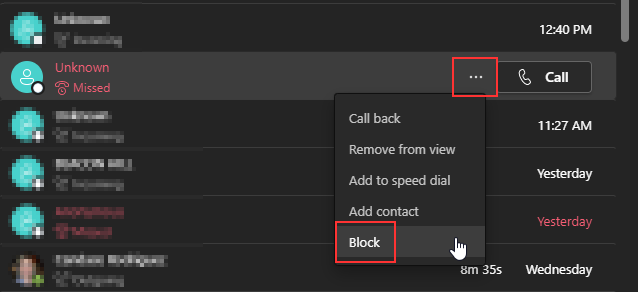 You should now see the word "Blocked" next to that number in your call history.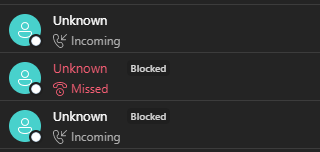 To view your list of blocked numbers, go to your Teams settings and choose "Privacy." You will see a setting to view your list of blocked contacts. Additionally, there is an option to block all calls with no caller ID. You may enable this setting at your own risk; it is possible that this setting may inadvertently block legitimate calls.