Audience: Franklin University University students needing to alter course registration using Self Service.
Disclaimer: The results and functionality of the following article only apply to the audience listed above.
Topics
All instructions below use the Student Planning Module as part of selfservice.franklin.edu.
Course Planning
Course Planning is used to plan out which courses to take when looking at which courses are still needed for your degree and general education.
1. Log into selfservice.franklin.edu.
2. Click on the Student Planning module.
3. From the drop-down, choose My Progress.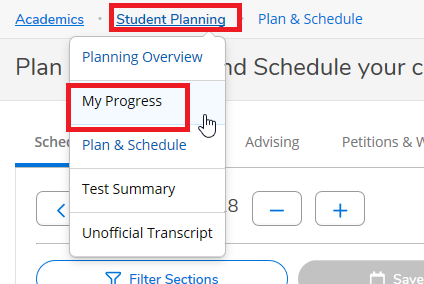 4. Here you can see courses that are still required for your degree and general education.
5. To look at a course, select the linked course name.

6. You can view the available sections for that course and filter by factors that matter to you such as location, instruction type, day, and so on.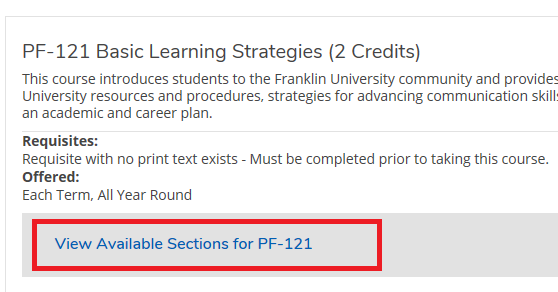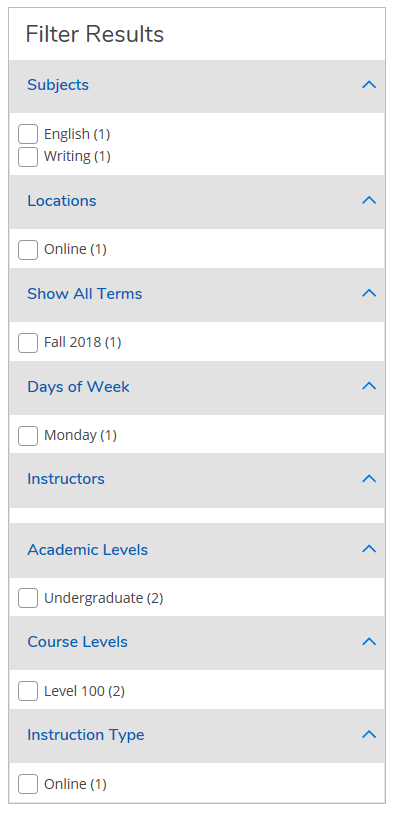 7. Once you find the course you plan to take, you can add it to your plan by choosing Add Selection to Schedule.

8. If you want to plan out future terms that have not yet had schedules published, you can add a course to your plan without a specific section. This does not actually register you for a section of this course, but rather serves as a "placeholder", allowing you to quickly register for a section of that course once the schedule for that semester has been published.
To do this, simply click the "Add Course to Plan" button at the top of the box for that course in the search results.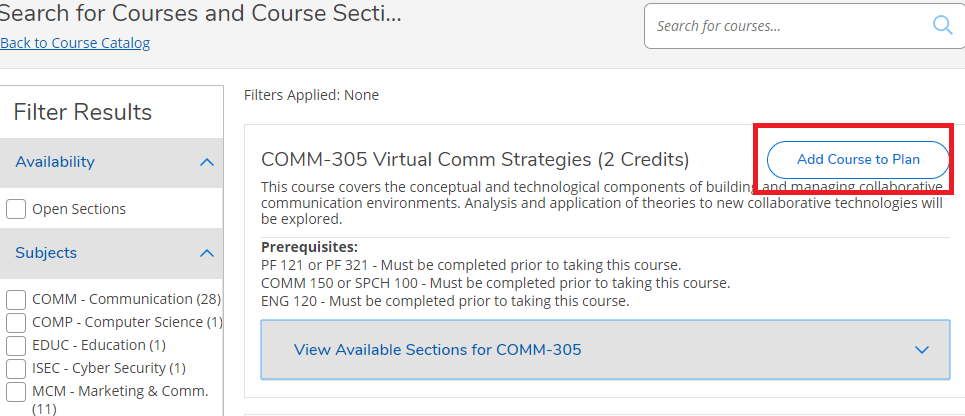 9. When done, go Back to My Progress.

Registering for Courses
To register for a course, you will first need to plan out your course schedule, also known as course planning. To be clear, adding courses to your course plan does not register you for those courses. Please see the section above for more information about course planning. After you have completed course planning, steps for registering are below.
1. To register for courses, first you will need to add courses to your course plan. For more information, please see the Course Planning section above.
2. After courses are added to your plan, go to the Plan & Schedule section of the Student Planning drop down.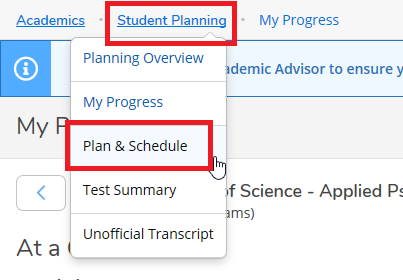 3. Here you can register for specific course sections that have been added to your plan, once the course becomes available. If the course registration has not yet opened, registration cannot be completed.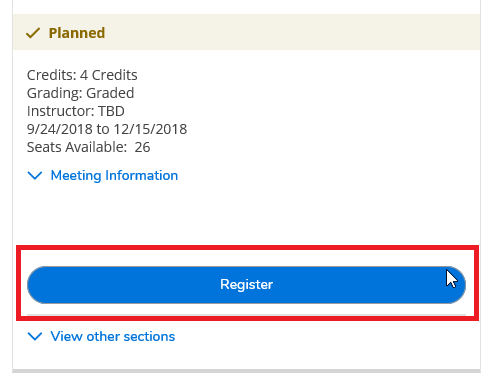 4. Sometimes you have added a course to your plan, but would like to view other sections of the same course to compare times and formats. To do so, click the "View other sections" toggle to the left of the schedule view. This will expand a list of the sections available for that course in the term you have planned it for. Click on the section you would like to register for in the case that you decide to go with a different section than originally planned.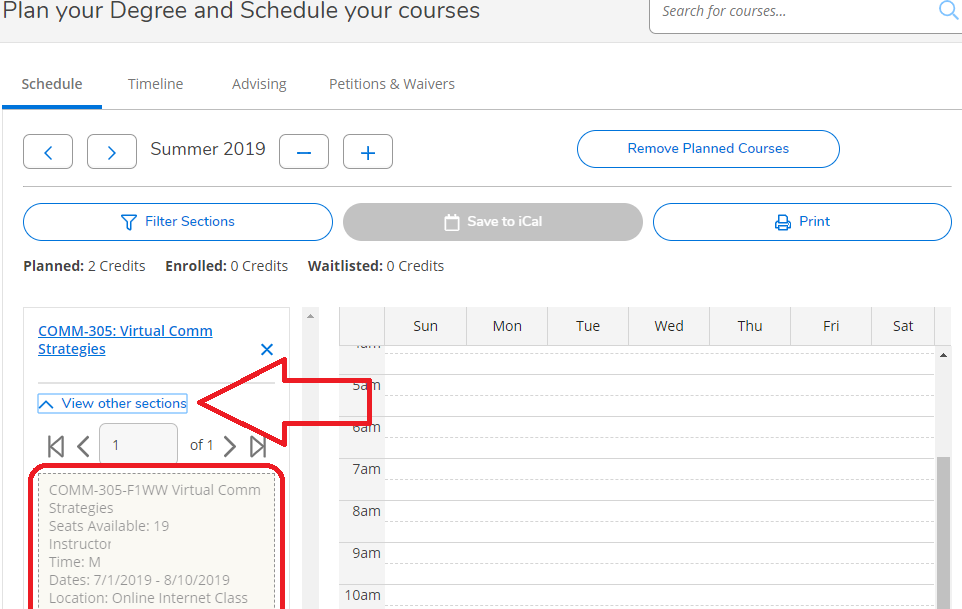 5. Click Add Section to add that section to you plan. You can then follow step 3 above to register for that section.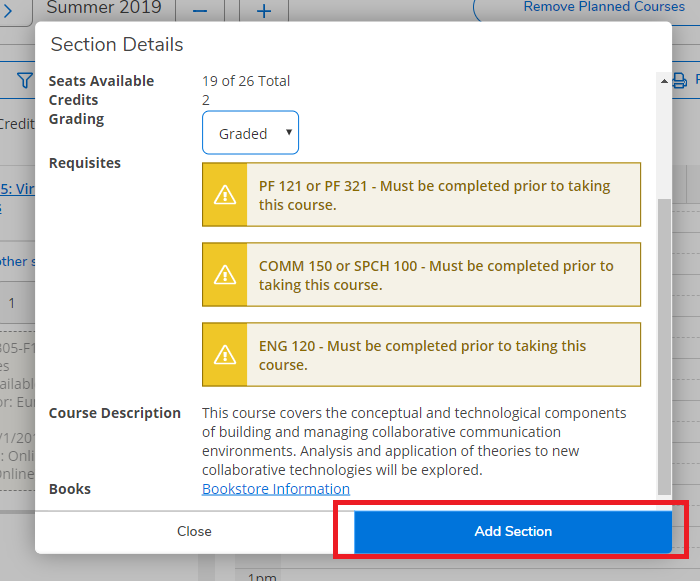 Dropping Courses
1. Log into selfservice.franklin.edu.
2. Go to the Plan & Schedule section of the Student Planning drop down.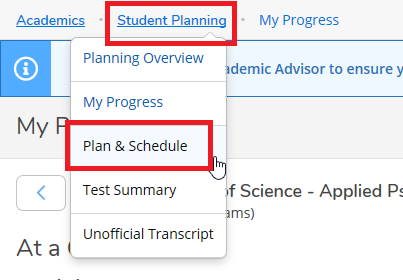 3. Here you can drop any courses for which you are registered.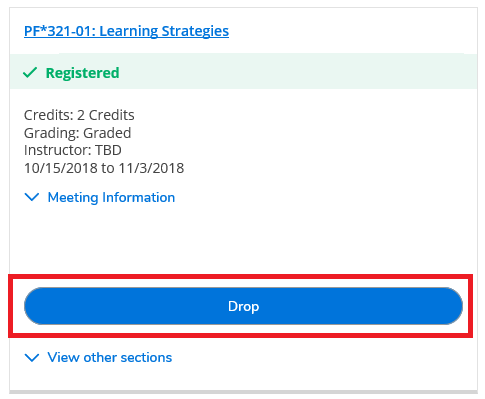 Dropping All Courses
If you attempt to drop all courses, you will be presented the following message. Please complete the linked form to proceed with dropping all active courses within a term.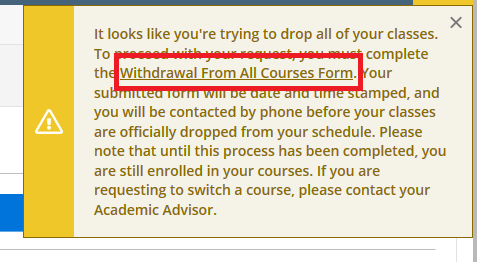 This article is intended to be simple step-by-step instructions for adding courses or dropping courses. If you are looking for a deeper dive into the many features of the Student Planning module in Self Service, we suggest the following article.
Wish to log a request with the Help Desk? Use your Franklin University username and password to login: Log A Request