Audience: Faculty, Staff, Students, and Guests on Franklin University on Campus accessing the campus WiFi networks.
Disclaimer: The results and functionality of the following article only apply to the audience listed above.
Topics
Alternative WiFi Access for Franklin Users
Franklin Secure WiFi Access for Faculty, Staff, and Adjuncts
The FranklinSecure WiFi network is a secure WiFi network for the Faculty, Staff, and Adjuncts of Franklin University.
Faculty and Staff using their Franklin University issued computer will automatically authenticate on this network (when not plugged into their docking station). Then, Faculty and Staff will have access to:
Colleague
OnBase
Your printers
This will bypass the need to use "Inside VPN" when on Franklin's campus.
Login: Use your myFranklin login information for Franklin University. Login works for up to 5 devices per username and password.
To enter your credentials, you may be prompted instantly after connecting, or you need to open your browser and attempt to navigate to a webpage to be prompted for login. If prompted, please choose Connect.
Troubleshooting: If your username and password have been typed incorrectly, or if your username and password have been recently changed, you may be unable to connect. To troubleshoot, please have your device forget the network and try connecting again with your current username and password.
Notes for Android Users:
If prompted for EAP method, choose PEAP
If given a field for Phase 2 authentication, choose the MSCHAPV2 option.
If prompted for both Identity and Anonymous Identity, enter your username in Identity and leave the Anonymous Identity field blank.
If prompted for a domain, enter franklin.edu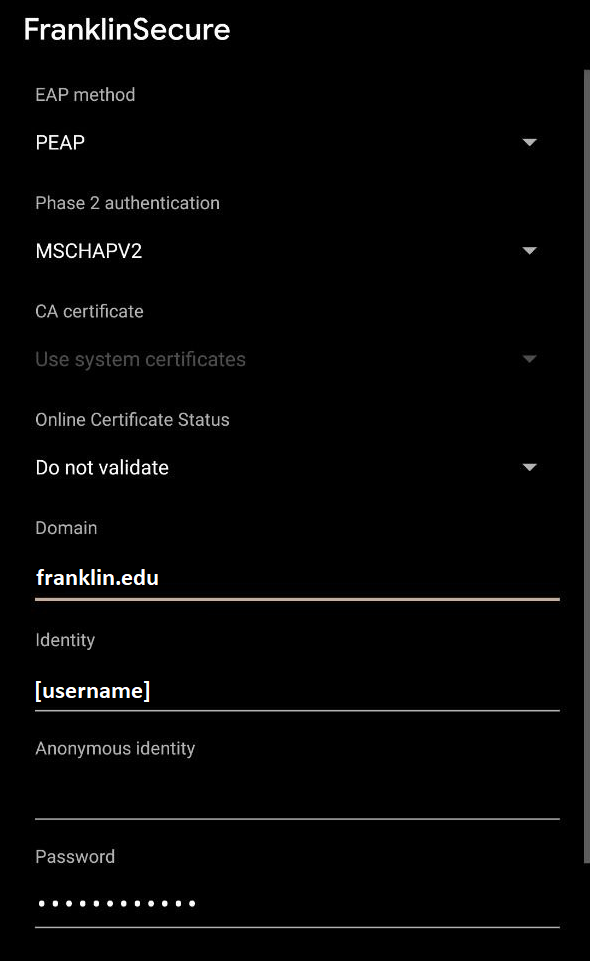 WiFi Access Option
for Students
If you are having trouble using the FranklinSecure WiFi network, students and adjuncts can also use the Franklin WiFi network as an alternate connection method.
1. Find the "Franklin" WiFi network using your laptop or mobile device.
2. Open a browser to prompt log in.
3. Then enter your myFranklin credentials. Make sure to accept the terms of agreement or you will not be able to log in.
Troubleshooting: same as Franklin Secure WiFi instructions above.

Guest WiFi Access
More information about guest accounts can be found here: Click Here
Wish to log a request with the Help Desk? Use your Franklin University username and password to login: Log A Request