Audience: Franklin University students with active university accounts.
Disclaimer: The results and functionality of the following article only apply to the audience listed above.
Microsoft Teams is enabled for some courses. For other students, they wish to chat, video call, and file share with other students, with or without Microsoft Teams enabled for their course. This article addresses both situations.
Topics
Installing the Teams Client and Signing In
Teams may be preferable when using a downloaded version to your device. However, Teams will also work in your computer browser at the following website: https://teams.microsoft.com/
Download Locations
Signing In
1. Start Teams.
In Windows, click Start > Microsoft Corporation > Microsoft Teams.
On Mac, go to the Applications folder and click Microsoft Teams.
On mobile, tap the Teams icon.
2. Sign in with your Franklin email address and password.
3. Your first time signing in will require using multi-factor authentication. For more information about MFA, please click here.
Taking Courses: Navigating Teams
The Teams left-hand vertical navigation bar (for computer) or lower navigation bar (mobile app) contains a few key features of Teams.

Activity - Shows recent activity notifications for channels, chats, calls, and more.
Chat - Where one-one-one and group chat conversations reside.
Teams - Where course Teams spaces reside.
Calendar - Syncs with your calendar as part of your Franklin University email.
Files - A quick way to see shared files that you have recently viewed or opened.
If Teams is enabled for your course, you will see a Teams space for your course listed under the Teams. Each team has public channels like a General channel. Likely, your professor has created a dedicated channel for Class Meetings, which also should contain Meet session recordings. Private channels (lock icon beside the channel name) will also show up in this list if the professor has created private channels and added you to contribute to them.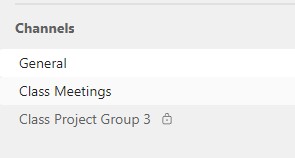 Within a channel you can start a new conversation using this button.

Additionally, you can also reply to existing channel posts.
If you wish to share a file in your conversation, use the icon shown here when typing your post or reply.

Taking Courses: Class Teams Meetings and Recordings
Your professor is advised to use a dedicated Class Meetings channel for class Meet sessions. When a professor schedules a meeting through a channel, all Team members are automatically invited. The meeting initiation will then show up on your Calendar.

Upon opening the meeting invite, you will see an option to join the meeting.

To monitor your meeting microphone and camera settings, use the More Options Menu (3 dots) and select Device Settings.
Recordings for class Meet sessions should live in the Class Meetings channel. If the meetings do not show up in a Class Meeting channel, please ask your professor for assistance for where they have saved the meeting recording.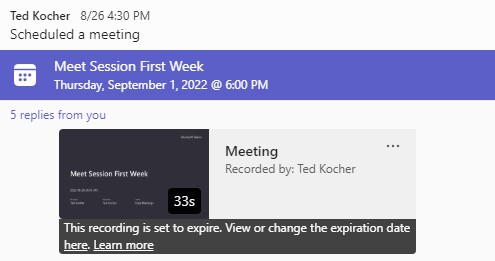 Chat, Video Call, and File Share with Classmates
You can chat, video call, and file share with classmates, even if your course is not using Microsoft Teams for its class meeting platform or doesn't have a Teams meeting space for the course.
Chat
If you wish to have a direct one-on-one chat with your professor or classmate, or if you wish to start a group chat, go into the Chat feature in Teams.

There, you can use this icon to start a new chat session.

Type to search for your professors name. If looking for a fellow student's name, you can search for them by their email address. If you are unsure of their email address, you can find a post of theirs in the class and hover over their name to see an option to chat with them.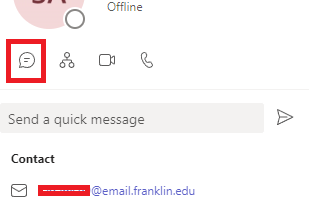 Video Call
Once a chat session is established, you can start an audio or video call with the individual or group using these icons in the corner of the chat.

To monitor your meeting microphone and camera settings, use the More Options Menu (3 dots) and select Device Settings.
If you record the video call, the recording will start processing after the call has completed. After the recording processes, it can be accessed from your OneDrive. Additionally, you can get an access link for the recording in OneDrive (click here for the link) and opening the Recordings folder.
File Sharing
Files can be shared in chat using the same method for file sharing on channel posts. Use the icon shown here when typing your chat reply to file share.

Please note that by default, files are shared in view-only mode. To allow those in the chat to edit the file, please click on the message People in this chat with the link can view. This will open a menu to allow others to be able to edit and collaborate on the file.

Wish to log a request with the Help Desk? Use your Franklin University username and password to login: Log A Request