Audience: Franklin University instructors.
Disclaimer: The results and functionality of the following article only apply to the audience listed above.
Setting up Microsoft Teams for Your Course
If you are interested in having Teams enabled for your course, please see the following link: click here
A faculty, adjunct, or staff login is required to view the content of the link above.
If access is granted, the steps below can be used to finish the Teams Space setup for your course.
Steps 1 - 3 below are done in your Canvas course, and step 4 in Microsoft Teams.
1. Once enabled by the Help Desk, the option will appear in your course's left-hand menu navigation for Microsoft Teams classes.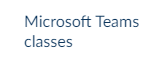 2. With this option available (as shown above) you can now turn on the Team for your course. To do so, go to Settings (left-hand menu below Microsoft Teams classes) and then to the Integration tab in Settings.
3. Toggle the state of the Microsoft Sync to on (to the right) and press the Sync Now button. Within the next 1/2 hour, your Teams client should show your addition of the Teams space for your course.

4. Once the Team for the course shows up for you in Microsoft Teams, you will be able to open and then Activate the Team. This will allow your students to see the Teams space. After pressing Active, their Team access should appear in Microsoft Teams within 90 minutes.
If you wish to setup the Teams space prior to allowing students access into the space, you can hold off pressing the Activate button until you desire granting student access.

Course enrollment changes will trigger the Teams space to add students. Therefore, if a student joins to course late, there access should update within 8 hours after their enrollment takes place.
For best practices regarding utilizing Teams in your course as an instructor, please click here.
Wish to log a request with the Help Desk? Use your Franklin University username and password to login: Log A Request