Audience: Franklin University undergraduate applicants that are finishing pre-enrollment processes.
Disclaimer: The results and functionality of the following article only apply to audience listed above.
Topics
1. How can I access the applicant portal?
2. What can I do in the applicant portal?
3. Who can I contact with further questions?
Recent undergraduate applicants of Franklin University should monitor the pre-enrollment processes using the applicant portal. The applicant portal was designed by Franklin University to monitor processes as required by the Admission's Department, such as monitoring if needed documents have been received and processed.
Accessing the applicant portal
Applicant portal website: https://my.franklin.edu
To log in, you will need your username and password. You should have been sent your username by email after your application was submitted.
Your username can be recovered and your password can be set/reset at the website password.franklin.edu using the Set/Recover Password and Forgotten Username fields. Recovery information will be sent to the alternate email address that we have on file for you.

For more information about recovering your username and password: Click Here
You will not be able to access Canvas (system for taking courses) or your student email until after scheduling your first courses. Your first courses will need to be scheduled with your advisor.
How to use the applicant portal
Once you have logged into the applicant portal, you can complete processes needed prior to enrollment. Start by clicking the View Your Applications button.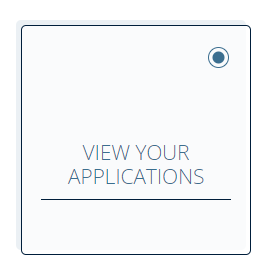 In the portal, you may see the following items.
Green Buttons – Call to action
Blue Check Mark – Step completed
Drop Down Menu – Available options to choose from
Please keep in mind that once you have completed a call to action, back end processes may take a few days to complete. Therefore, it may take a few days from time of completing a step in this process, until you see a check mark indicating the step has been completed.
Here are possible steps you may need to complete – steps may vary per application type, program type, or other factor.
1. If you have submitted multiple applications, please select the application for which you wish to complete pre-enrollment steps.
2. If you have not submitted transcripts, you may be able to order your transcripts through the applicant portal. A green "request" button will show up next to the needed transcript.
Alternatively, you have your transcript mailed in an official from the school in a sealed envelope to the following address:
Franklin University
ATTN: Office of Transfer and Articulation
201 S. Grant Ave.
Columbus, OH 43215-5339
If you have some college experience, but will not be transferring at least 60 credits from an accredited college or university to Franklin University, please complete the High School Attestation Form found within your Applicant Portal.
3. Other calls to action may show up as forms you can fill out and submit online, forms you can download to your computer or phone, documents you can upload from your device, or even payments you can submit where applicable.
4. If you have not submitted your FAFSA, Click Here for more information.
More information may be found within the applicant portal.
Other Factors to Keep in Mind During Pre-Enrollment
1. Whether or not you will need placement tests
If your application status indicates that you need to take placement tests, Click Here for more information.
2. If you have scheduled an appointment with your advisor, which is required.
A registration appointment is required once you have been accepted. An advisor will reach out to you with scheduling information at the appropriate time.
3. If you have been selected for Financial Aid verification
Sometimes during the FAFSA process, the IRS will select you for verification. If selected, you will receive an email from Franklin's Financial Aid Office along with information regarding the forms you will need to submit.
Click Here for more information regarding the verification process.
Contact Information
If you have any further questions about the admissions process:
If you have any questions about the Financial Aid process:
If you have any technical issue resetting your password: