Audience: Franklin University students needing to print payment receipts using Self Service.
Disclaimer: The results and functionality of the following article only apply to the audience listed above.
Should you need to see or print out a payment receipt, please use the following steps:
2. Go to the Student Finance section.
3. Click on Account Activity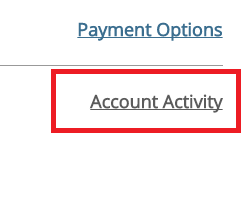 4. Click on view statement to see a printable and downloaded bill in PDF version.
Wish to log a request with the Help Desk? Use your Franklin University username and password to login: Log A Request