Audience: Franklin University students using the Canvas Learning Management System.
Disclaimer: The results and functionality of the following article only apply to the audience listed above.
Topics
How to Opt Out
While it's strongly discouraged, you may wish to opt-out of using the e-textbook in a Canvas course.
E-Textbooks with courseware do not allow for the same opt-out functionality as standard e-textbooks. Along with e-textbooks access, e-textbooks with courseware also contain assignments or other learning objectives that are part of the graded coursework, and therefore impact final grades.
If you wish to opt-out:
1. Log into your course in Canvas
2. Click on the book object in your course.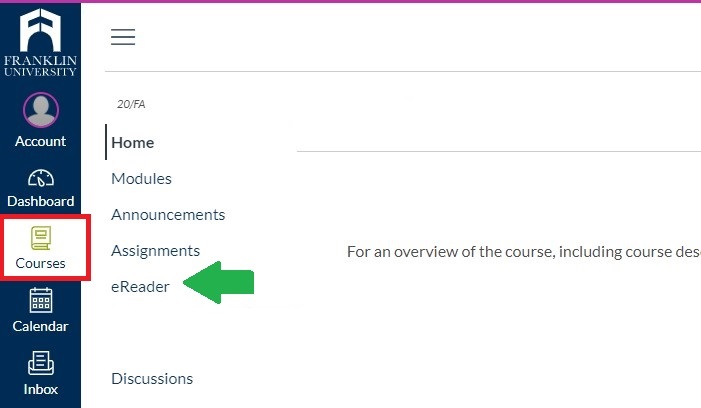 3. On the next screen you will see the option to opt-out of your materials for the course.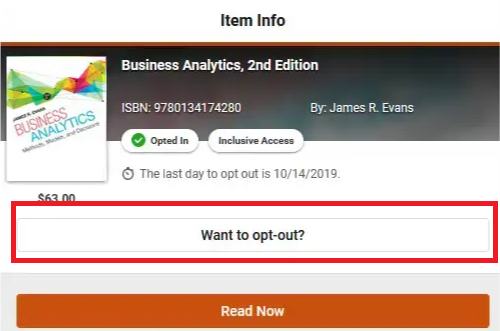 The fee for your materials you opt-out of will be removed from your account no later than 22 days after the course start date.
While you may acquire a textbook on your own, physical textbooks for courses that utilize e-textbooks are not available in the Franklin University online bookstore.
When to Opt Out
Students are opted into e-textbooks by default at the beginning of the course.
Students have 14 days after the course start date to opt out and to opt back in of e-textbooks as needed.
After the 14 days are up, students have 1 more week (14-21 days after the course start date) to opt back in ONE more time, but you cannot opt back out during this time period.
Wish to log a request with the Help Desk? Use your Franklin University username and password to login: Log A Request