Audience: Franklin University students using the Canvas Learning Management System.
Disclaimer: The results and functionality of the following article only apply to the audience listed above.
While it's strongly discouraged, you may wish to opt-out of using the e-textbook or e-textbook with courseware in a Canvas course.
If you wish to opt-out:
1. Log into your course in Canvas.
2. Click on the book object in your course. For most courses, if an integrated e-textbook is part of the course access, the book(s) will be available through the left hand course menu.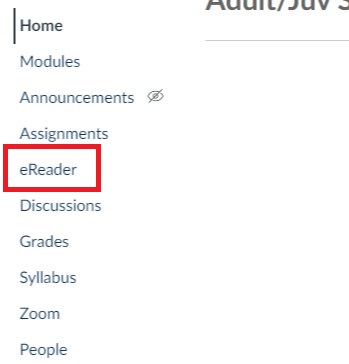 3. On the next screen you will see the option to opt-out of your materials for the course, if applicable (see bullet points below).
Students have 14 days after the course start date to opt in and out of e-textbooks as needed.
After the 14 days are up, students have 1 more week (14-21 days after the course start date) to opt back in ONE more time, but you cannot opt back out during this time period.
You will only be able to opt in within the first 21 days of the course start date.
The fee for your materials you opt-out of will be removed from your account no later than 22 days after the course start date.
While you may acquire a textbook on your own, physical textbooks for courses that utilize e-textbooks or e-textbooks with courseware are not available in the Franklin University online bookstore. Please be aware that opting out of an e-textbook with courseware will remove your ability to complete class assignments. You will be prompted to purchase access once the publisher has discontinued your original access after opting out. For more information about the difference between e-textbooks and e-textbooks with courseware, please see below.
E-Textbooks Compared to E-Textbooks with Courseware
There are 2 categories of e-textbooks used at Franklin University. Often within a course, both kinds are just referred to as e-textbooks. However, a more accurate description lies below:
Traditional E-Textbooks: Traditional e-textbooks are a digital copy of reading materials that are either required or recommended for the course.
Many traditional e-textbook are offered through the Yuzu platform.
E-Textbooks with Courseware: What is sometimes referred to as an e-textbook is actually an e-textbook with Courseware. E-Textbooks with Courseware have 2 purposes; reading material and assignments. Assignments as part of the Courseware may be homework, practice work, labs, study guides, training materials, quizzes, or more. However both portions of the e-textbook with Courseware (reading material and assignments) are completed outside of Canvas, and are both part of the same e-textbook platform.
Many e-textbooks with Courseware are offered through the Pearson and McGraw-Hill platforms.
Wish to log a request with the Help Desk? Use your Franklin University username and password to login: Log A Request