Audience: Franklin University Faculty and Staff that have access to team calendars in SharePoint
Disclaimer: The results and functionality of the following article only apply to the audience listed above.
Introduction:
The steps explained below will guide users in connecting a SharePoint calendar with Outlook. Users can schedule new meetings/appointments, see what other users have added, and delete or change meetings and appointment details.
There are many advantages to using a SharePoint calendar; security is managed through SharePoint and if the calendar's creator leaves the organization, the calendar still exists.
Viewing a SharePoint calendar within Outlook also has the following benefits:
The Outlook Calendar with automatically sync with SharePoint
Changes and additions made to the calendar in Outlook will be reflected in SharePoint
The calendar can be completely managed from Outlook or the SharePoint site, or both
To sync a SharePoint calendar with Outlook, complete the following steps:
Navigate to the calendar in SharePoint




In the ribbon, click on the Calendar tab, then click "Connect to Outlook"

Your browser may confirm that you wish to open an external application (Outlook). Click "Yes" or "Allow"

Outlook will open and you should see the following prompt (choose Yes):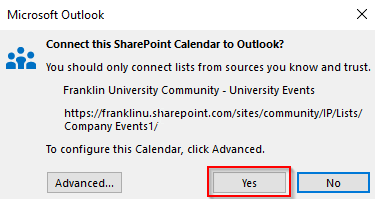 The calendar will open and you will see it appear in the left-hand column of Outlook underneath the "Other Calendars" heading. You can drag it to a different location if you wish.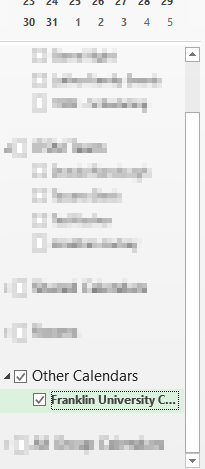 Wish to log a request with the Help Desk? Use your Franklin University username and password to login: Log A Request