Audience: Franklin University Faculty and Staff while on campus.
Disclaimer: The results and functionality of the following article only apply to the audience listed above.
While in a meeting, if you need to share your laptop screen, you can do so, even if you are not the person who is leading the meeting. This process can be helpful in large conference rooms where a presenter doesn't want to stand/sit at the location of the conference room computer.
1. Start a chat through Teams with the person at the conference computer. Alternatively, if a Teams meeting is being used for the occasion, you open that meeting link on your laptop.
2. Once the chat has been initiated, use the screen share button to start sharing your screen. Once sharing starts, you can demonstrate an application, advance presentation slides, and more.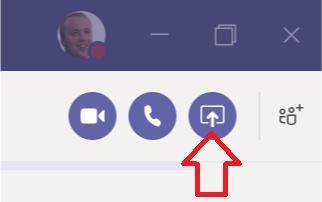 3. If you are in a Teams meeting while in the conference room, audio feedback may happen while transmitting through a Teams meetings in this situation. In such cases, your laptop may be providing a secondary audio source transmitting to remote attendees. In such cases, simply mute your laptop speakers to stop the feedback loop.
Wish to log a request with the Help Desk? Use your Franklin University username and password to login: Log A Request