Audience: Franklin University Faculty and Staff that have been granted permission to access work resources using their University computer off-campus.
Disclaimer: The results and functionality of the following article only apply to the audience listed above.
Topics
1. Avoiding Basic Computer Functionality Problems
To avoid basic functionality problems, please restart your computer nightly. A nightly restart severs all previously running sessions of software, and allows all software and the entire operating system to refresh, rather than running off of a previously 'saved' session. Saved sessions (AKA cached sessions or cached data) can cause performance errors over time.
Please RESTART the computer, not simply SHUT DOWN the computer. Shutting down the computer without using the restart option simply puts the computer to sleep without forcing a full refresh.
2. VPN, How To and Troubleshooting
To receive critical software updates and to prevent your machine from becoming disabled, you need to be connected to VPN 1 to 2 times per week for several hours at a time. Instructions for using VPN on your laptop - Click Here
To Troubleshoot Issues with VPN - Click Here.
3. Increased cyber security threats hacking attempts.
With much of the workforce now at home, hackers are taking the opportunity to ramp up efforts.
Look out for increased SPAM email attempts. - Click Here for training.
Lock your computer when not actively using it. Your University issued computer and account are not permitted to be used by anyone other than you, including children or other family members. Others accessing your computer can introduce internet activity from non-approved sources, and creates serious privacy, FERPA, and data security concerns.
Please see the links below for helpful tips from the federal government.
4. Password Resets and VPN Access
When working remote with a University-issued device, it is helpful to be connected to VPN for password changes to your faculty/staff account. However, if you complete the password change while not on VPN, you need to use the Franklin VPN - Login profile the next time you connect. This profile has the same permission as your standard VPN access but prompts you for log in with your computer credentials. This profile can be used so that VPN and your computer recognize your updated credentials. Once connected to the Franklin VPN - Login, please remain connected for a few minutes and then lock your computer (see below). Once locked, please sign in with your newly created password. If successful, moving forward, you can return to using the standard VPN.

Other FAQs
How do I collaborate with Teammates from home?
Most collaborative application are accessible over basic internet such as, OneDrive, Email, Teams, and SharePoint.
Some more sensitive applications requires a virtual private network (VPN) to access from home, such as Colleague, CRM, OnBase, virtual phones, BI reporting, and more. For more information about VPN - Click Here.
Tips for Using Teams
1. Try completing video and audio calls in Teams. You may have used this feature for scheduled meetings, but it can also be used for impromptu as-needed calls as well. Its a great way to keep up with remote members of your team.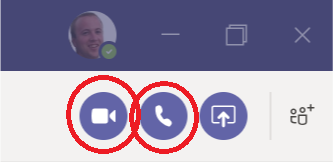 2. Utilize the presence and status options to let other see your availability and important contact details about you. Click on your profile picture in Teams to change these settings as often as needed.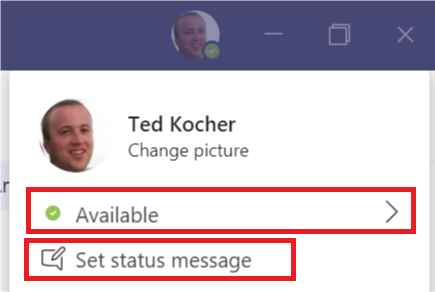 What about my desk phone?
For users that have a university issued mobile phone, or receive financial reimbursement for their cell phone, you may wish to forward all calls from your desk phone to your mobile phone. Click here for training.
If your role requires that you routinely make or receive outside calls, a virtual phone is best. Click here for more information.
For all other users, please leave an outgoing message on your mailbox indicating that you are working remotely and an email or an appointment are the best options for contact.
What are my mobile device options?
Microsoft created mobile applications like Outlook, OneDrive, and Teams.
Please note when loading Teams, Outlook, and OneDrive apps, please only install apps directly from the Microsoft Cooperation, as shown below.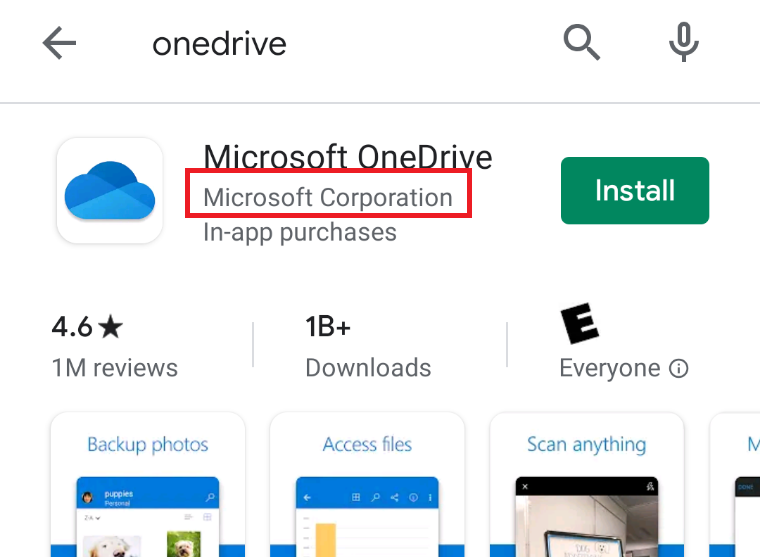 Mutli-factor authentication will be required when logging in the first time. Training for multi-factor authentication is listed above.
What about my printers?
You should avoid printing whenever possible while you are working from home. While connected to VPN, your office printers will be available. Be wary of printing any documents to these printers, as such documents will remain uncollected until you return to work.
Your University-issued laptop will not print to your personal printer at home by default. The University does not support configuring your personal printer unless there is an essential business need. Printing documents at home may inadvertently expose sensitive University data. In this case please ask your supervisor to contact the Help Desk with the details of your requirement.
The Franklin University IT Help Desk is here to support you during this time. Please reach out to us with any questions.
Wish to log a request with the Help Desk? Use your Franklin University username and password to login: Log A Request