Audience: Franklin University Faculty and Staff using Outlook email on the computer.
Disclaimer: The results and functionality of the following article only apply to the audience listed above.
If you used to be able to schedule a team meeting in Outlook, but now that functionality is missing, there are 2 potential fixes.
Fix 1
When you open Outlook, you may see these popups (there may be a series of them). Look through each pop-up. If you recognize the pop-up, Trust the add ins from that source. The Teams Meeting add in can be trusted.

Fix 2
If fix 1 didn't help, please use the following fix to resolve the issue.
1. Open Outlook.
2. Click on File.
3. Click on Options.
4. In the options menu, click on Add-ins.
5. Change the drop down to disabled add-ins and click on Go.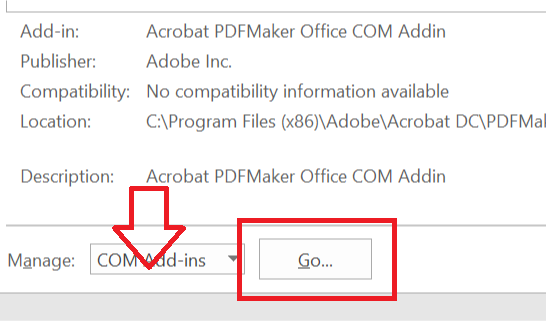 6. You will need to enable to add-in for Teams.
7. Now change the drop down back to COM Add-ins and click Go.
8. Put a check mark next to the Teams Meeting Add-in.
9. Click OK.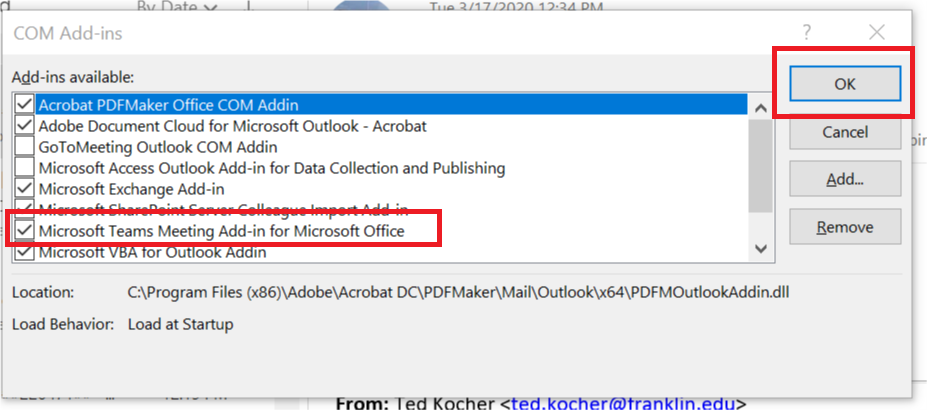 10. If prompted, please Trust the add in (screen shot shown in Fix 1).
If that still doesn't work, please contact the Help Desk.
Wish to log a request with the Help Desk? Use your Franklin University username and password to login: Log A Request