Audience: Franklin University Faculty and Adjuncts teaching within Franklin University on-campus classrooms.
Disclaimer: The results and functionality of the following article only apply to the audience listed above.
Franklin instructor computers within on-campus classrooms now have an annotation software installed called Easy Interactive Tools. This software can be used to annotate on the screen of the computer.
While the software is running, you can choose to:
1. Annotate anything currently showing on your desktop (outlined in red)
2. Annotate on a blank white surface (outlined in blue)
3. Open previously-saved annotation presentations (outlined in purple)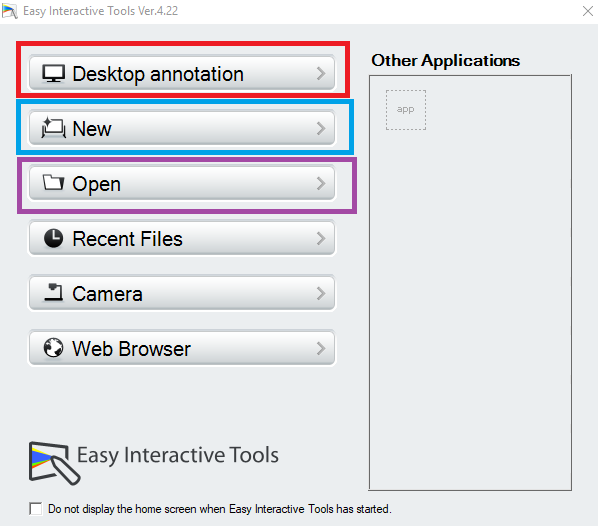 Please make note of the tools that can be used when annotating. If you need to switch back to your mouse to interact with the computer, use the mouse icon at the top of the menu.

When annotating your desktop, the controls at the top allow you to save your work, and advance between annotations (outlined in purple).

When annotating a white surface, the controls at the top offers you controls to add new slides (outlined in red), and to advance between slides (outlined and understood).

If you have any questions about using Easy Interactive Tools, please let us know.
Wish to log a request with the Help Desk? Use your Franklin University username and password to login: Log A Request