Audience: Franklin University students or alumni that are looking to procure transcripts
Disclaimer: The results and functionality of the following article only apply to the audience listed above.
Topics
1. Ordering an Official Transcript
2. Locating an Unofficial Transcript
3. Problems Viewing Unofficial Transcripts
4. Former Urbana University Students Looking for Transcripts
Official Transcripts
Official Transcripts can be ordered.
Franklin University: Click Here
Unofficial Transcripts
If you have recently completed a course at Franklin University, you can often access your unofficial transcript through the Self Service system. Please log into selfservice.franklin.edu with your student login information.
In the upper left-hand corner of the screen open the site navigation menu (three horizontal lines icon), expand Academics, and click on the Unofficial Transcript option.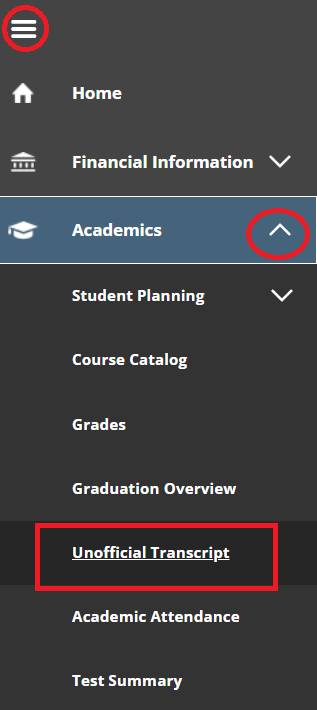 If you are unaware of your username or password for Self Service, you can reset your password. Training can be found here.
If you have questions about how long your account is active, more information can be found here.
I Cannot See My Unofficial Transcript
There are a few reasons that you may not be able access your Unofficial Transcript.
- There is a message that states I owe money: If you have an outstanding balance for the current term, you may be blocked from viewing your unofficial transcript. In this case, please reach out to the Student Financial Services Department: sfs@franklin.edu.
- I cannot log into Self Service: Depending on when you last took courses, your account may be inactive. If your account is inactive, the Help Desk will not be able to reactivate it. You still are able to order an official transcript (instructions above), even if your account is inactive. Alternatively, if you wishing to look over courses you have taken to see how long it would take to finish your degree at Franklin University, you can talk to our Admissions Department: admissions@franklin.edu.
Former Urbana University Students Looking for Transcripts
Official Transcripts can be ordered via the Franklin University link by Clicking Here
Wish to log a request with the Help Desk? Use your Franklin University username and password to login: Log A Request